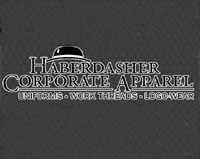 When S&K Menswear closed last year, Scott Ilnicky found himself out of work for the first time in 20 years.
Ilnicky, a road-weary veteran of the work clothes industry, stuck to what he knew best and created Haberdasher Corporate Apparel a month later.
That makes Ilnicky the second former S&K executive to start a new firm. In August, BizSense reported on Direct Menswear, which is selling many of the same labels as S&K online and at periodic warehouse sales.
In February 2008, Ilnicky left VF Corporation to create a corporate apparel division at the Richmond-based S&K. It was a return to a familiar product, as he began his career as a sales rep for ARAMARK, a giant of the uniform rental companies. The stint was short. S&K closed in May 2009.
"They brought me on because they wanted to diversify their products. They had seen success with tuxedos and their online store, and wanted to try something else," said Ilnicky. "It was just the right idea at the wrong time."
Ilnicky was so confident it was the right idea that he decided to take what he did at S&K and move it into the upstairs office of his home. That home served as his main line of credit, and Ilnicky launched Haberdasher in June 2009.
"I didn't want to go back to work for another company. I didn't want to move. I didn't want to travel," he said.  "I wanted ownership. I wanted to be a big fish in a small pond, not a medium-sized fish in a big pond."
Right now, Haberdasher serves 75 clients in a diverse group of industries, but medical and medical-related companies account for 25 to 30 percent of the total revenue, said Helen Ilnicky, Scott's wife and business partner.
Initially Helen was apprehensive about starting from square one, but the stay-at-home-mom of 17 years says she came on board faster than she expected.
"Scott was essentially running his own business at S&K because it was so different than what the rest of the company was doing, so I knew we had the right experience to make this work," said Helen. "It's exciting to own your own business, because the sky is really the limit when you work for yourself."
For Scott, the push came when he saw that large companies were just as vulnerable as smaller ones.
"You could work for one of the best employers in Richmond and be without a job," said Ilnicky. "It wasn't necessarily a safety blanket to work for a big company."
Scott said clients in the uniform supply business shifted from manufacturing companies to more white-collar industries.
"As people were getting less dirty at work, the large rental companies were slow to notice, and that's an area I wanted to focus on at S&K, and now at Haberdasher," he said.
According to Scott, Haberdasher did more business in its first six months than in his entire year at S&K, with October and November being the company's biggest months. He said his goal is to double the company every year.
"It was really scary at first, more so for me than for Scott, but I'm astounded with how much I've learned in the first eight months of business," she said. Prior to becoming a mom, Helen worked for an insurance company and sold real estate.
As for the throwback name, it came on a whim.
"I'm a radio DJ for WRIR, and I call myself the Haberdasher," said Scott. "I threw it out as a joke to my wife, but then it just sort of made sense."
Drew Jackson covers startups for BizSense. Please send news tips to [email protected]