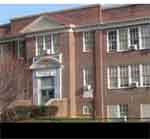 A handful of urban planning graduate students at VCU are studying how a recently closed school in the West End could be converted into something more productive.
The old Westhampton School at Patterson and Libbie will likely be sold by the city in the near future, and students at VCU are researching the best use for the property.
The Richmond Community High School vacated the site after facing lawsuits filed because the buildings were deemed not accessible last year, and the city is considering future uses for the building, which was appraised at $7.5 million last year.
According to the city's asset management division, the school is not listed, and a timeline has not been determined. The department spokesperson said the sale will likely be conducted by a competitive request for proposal process. Potential buyers have expressed interest to the city.
Morton Gulak's urban planning students are studying ways to use the property.
According to Gulak, this is not an unusual project for his students.
Every year, VCU urban planning students take on a real world project as a kind of senior thesis project.
Gulak, along other faculty members, and Justine Roberts, a programs manager for Richmond's department of economic and community development, worked to make the project available for the students.
"She thought that this would be good for the students as well as for the city," Gulak said.
Four of Gulak's students are each tackling a different job in the planning process: building feasibility, sustainability, urban design issues and market analysis.
"They're looking at the site the building is on, but in relation to the surrounding area," Gulak said. "For example, if housing goes in, what retail needs would there be?"
Gulak said that the students are ultimately going to come up with three options for the building. A panel of faculty members and representatives from the city will judge the choices.
Gulak believes that the work his students are doing will affect the choice the city ultimately makes.
"I think, yes, it could be very helpful," Gulak said. "I think they're looking at it in a specific way, such as what changes should be made to improve the community."
The students began their project in January and will finish and present their ideas in early May.
Gulak said that as of now he doesn't know exactly what his students will decide for the site, but that they will have ideas within the next few weeks.
"We have done this for years," Gulak said of the projects. "They help the communities that these [sites] exist in, and it certainly helps the students."
Kaitlin Mayhew is a BizSense reporter. Please send news tips to [email protected]