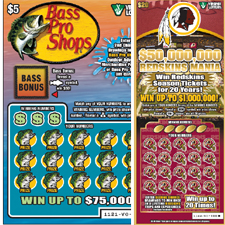 Talk about a costly error.
A winning lottery ticket was purchased in October in Virginia, but no one has claimed the $250,000 prize.
Virginia Lottery officials say that happens more than you'd think.
The ticket was bought at E&C Gas Station on Iron Bridge Road in Chesterfield. Five out of seven numbers matched the winning number.

Because the buyer did not claim the prize by 5 p.m. Monday, the ticket expired.
The E&C station got a bonus of $750 for selling the winning ticket, and they get to keep the money even though the ticket was never claimed. The gas station also flew a banner announcing that it had sold a big-winning ticket.
Mega Millions tickets must be claimed within 180 days of the drawing or they expire.
According to Virginia Lottery spokesperson John Hagerty, tickets often go unclaimed, especially those for less money, such as $2 or $3.
However, he also said that a lot of people don't know the exact rules of playing the lottery, especially when the jackpot gets high.
"A lot of people don't realize that you can win even if you don't match all of the numbers, so they'll throw the ticket out," he said. "I'm not saying that's what happened. But it does happen a lot of the time."
But what's unfortunate for the buyer is a boon for education in Virginia.
All unclaimed money from the Virginia Lottery must go to the Literary Fund of Virginia.
The money in Virginia's Literary Fund is used for educational purposes, such as building schools, making renovations and funding teachers' retirements.
The lottery has transferred more than $190.1 million in unclaimed money in to the Literary Fund.
Proceeds from the Virginia Lottery also go for educational purposes, but through a slightly different medium. The proceeds are handed directly over to the state and are then distributed throughout schools within the Department of Education.
The lottery then receives a list of how much is allocated to each school.
The largest unclaimed ticket in Virginia was $11.6 million in March 2003.
More reading:
Curse of the Lottery winners, ABC
Kaitlin Mayhew is a BizSense reporter. Please send news tips to [email protected]