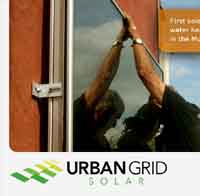 One of Richmond's solar contractors has started a firm that he hopes can better compete for work across the Mid-Atlantic region, and another local builder is investing in the company.
Blue Crump is the founder of Cityspace Solar, but now he is focusing his energy on a new solar firm called Urban Grid Solar.
Crump said he has stepped away from Cityspace Solar, a division of his construction firm that eventually became a separate company. Last year, developer Justin French partnered with Crump and bought half of Cityspace Solar.
But that venture has been sidelined. Crump said Cityspace Solar is reserved for work with future French-related projects. For now all projects under Cityspace Solar have finished.
Crump transferred the equipment and 10 employees to the new company.  He also has an equity partner, Greg Haley of Haley Builders, who owns an eighth of the business.
Having Haley's backing helps the firm tackle bigger projects, Crump said.
"We are building several contracts on federal buildings in D.C.," said Crump. "There are a lot of stimulus funds hitting the ground [for construction projects]."
Crump also plans on making a push into Maryland and North Carolina, where incentive programs are strong.
"I want to build a regional capacity in the Mid-Atlantic, with the vision of having a national presence," he said.
He said competition has increased in the past couple of years as more contractors have gotten into the solar business. Demand is strong, he said, evidenced by the depletion of $15 million worth of rebates provided by the state of Virginia.
"Our hope is we will see more rebate programs like that," he said. "It has had a significant impact."
Crump has also launched a companion business with Urban Grid vice president Erin Hensley called One Planet REC. That company sells and trades renewable energy certificates for clients.
To meet portfolio requirements for renewable sources, utility companies will buy the RECs. One REC is equivalent to 1,000 kilowatt-hours, and the going rate is $250 for a certificate. The company takes in a percentage basis of the certificates that are sold.
For businesses that install solar or renewable systems, those certificates can add up and create a positive cash flow. For example, a 14.4 kw system Crump installed for the Children's Museum of Virginia will earn $25,000 over five years at the current price.
That price will go up if Congress passes a cap and trade bill, Crump said.
Al Harris covers alternative energy for BizSense. Please send news tips to [email protected]