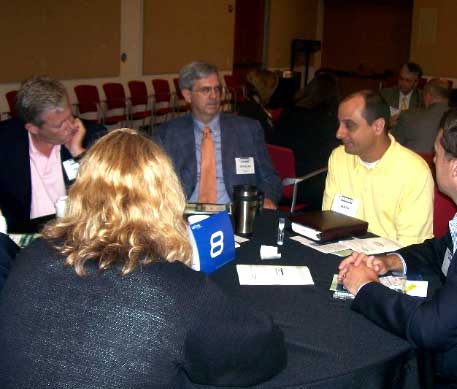 For entrepreneurs or those who just daydream about the next best thing, there's always more to learn and more people to meet.
The Venture Forum, an association of entrepreneurs and support professionals (such as lawyers and accountants), is throwing its second annual Entrepreneur Fair on Friday at the Capital One campus in Goochland.
The fair is for "anybody that is an entrepreneur or thinks they might want to be an entrepreneur," said Tom Kranz, one of the organizers and a Venture Forum member.
Seminar topics include sustainable growth and financing a new business. Plus there is a special session called "I wish I'd known: Stories from the startup trenches," which will feature a panel of business owners talking about their experiences and taking questions.
"We designed the program to be a 'cradle to grave' process," Kranz said. "We talk about how to start a business, how to go through the various stages of growth and then how to exit."
About 230 people attended last year's fair, Kranz said. He said they already have more people signed up than at this time last year. So far, 150 entrepreneurs and business owner hopefuls have pre-registered.
Rich Reinecke, president of the Venture Forum, said the event "provides [entrepreneurs] with a supporting cast of characters."
"Whether you are starting a business or exiting, this event is going to help you," Reinecke said.
There will be no on-site registration because of the security restrictions at the location.
The fair will also feature a "speed networking" event.
Venture Forum had the speed networking at the last Entrepreneur Fair, and according to Kranz it was well received.
"It's fantastic. We do it to kick off the morning," he said. "So that hypothetically if you came there … knowing nobody from Richmond, by the end of that first session you'd have 30 friends."
Kranz said that despite people's fears about not being able to build a large-enough client base to stay afloat, it's still a good time to start a business.
And according to Rich Reinecke, being an entrepreneur in any economic climate comes down to toughness. "You need the intestinal fortitude to stomach the environment," he said.
"It's tough to not question everything about what's going on in the environment around you. You are making the decisions."
Reinecke said that events like the Entrepreneur Fair give people in all stages of business ownership the opportunity to learn from others.
"You learn that you're not the only one who is facing these things," he said.

Kaitlin Mayhew is a BizSense reporter. Please send news tips to [email protected].