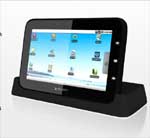 Watch your back, iPad.
A Chesterfield-based computer manufacturer is getting into the tablet PC game.

Velocity Micro specializes in high-end desktop computers that are popular with hardcore video gamers, but spokesman Josh Covington said that the growing interest in handheld, touch-screen computers is too great to ignore.
"I think we are always looking to be on the cutting edge on what is new and cool, whether it is desktops, netbooks or tablet PCs," said Covington. "We saw an opportunity in the market."
The company plans to launch the Cruz, which is actually a family of about four tablet PCs, later this summer. Covington said the number of models might change. One model, he said, will be an e-reader aimed at children.
According to the product website, the device will have a seven-inch screen, Internet connectivity, an SD card slot and a USB port. It will use the Android 2.1 operating system.
Covington said that the product will sell for $300 and under and that they plan to produce more than 100,000 units. Production takes place overseas.
He said the Apple iPad, which starts at $499, isn't their primary battle.
"The Apple consumer is a different consumer," he said.
Instead they will be competing against other iPad alternatives, lower-priced Android-based tablets that have similar functions. Hewlett-Packard and Samsung are among the big brands with tablets coming out soon.
Covington said the product launch does not signal a shift in the company's primary focus.
"High performance desktops will always be our bread and butter," Covington said.
He said that 2009 included a record fourth quarter for the company.
Previously on BizSense: Fast computers making fast money

Al Harris is a BizSense reporter. Please send news tips to [email protected].