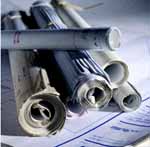 A 40-year-old printing company that worked with architects and engineers is liquidating.
Virginia Reproduction & Supply Co. filed Chapter 7 bankruptcy last week.
The changes in the economy were difficult for the company over the last few years, said Roy Terry, a bankruptcy lawyer representing Virginia Reproduction & Supply.
The Chesterfield based company has offered printing, copying, architecture and engineering bid services to the central Virginia community since 1965, and has been owned by Michael McCarthy for the past decade.
"Their niche was really providing paper plans for architects and engineers and in this economic slowdown, the need really isn't there," Terry said.
Their chapter 7 filing means that they will undergo a complete liquidation of their business and inventory.
The assets for the company were estimated at $0-$50,000 and estimated liabilities at $50,000 to $100,000, according to the filing.
The company's local creditors include Dominion Power, Data Technologies, a company that offers office electronics, and Watchcard Fuels.
Terry said that one of the biggest creditors for the company was probably the company's bank.
Kaitlin Mayhew is a BizSense reporter. Please send news tips to [email protected].