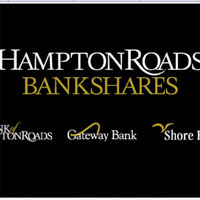 The CFO of the battered holding company of Gateway Bank has announced his resignation, the company said in a regulatory filing yesterday.
Neal Petrovich, 47, had served as CFO of Norfolk-based Hampton Roads Bankshares since February 2009. He joined the company shortly after it acquired a beleaguered Gateway Financial Holdings, which had previously bought out Bank of Richmond in 2007.
Though the Bank of Richmond name was to have remained following the Gateway acquisition, the subsequent deal with Hampton Roads Bankshares left each of those branches bearing the Gateway Bank name. There are currently five Gateway Bank branches throughout Richmond.
Petrovich's departure comes at a tumultuous time for the company. Hundreds of millions of dollars in souring loans has left it reeling and scrambling for fresh capital.
The company lost $24.78 million in the first quarter of 2010, fueled by $276.7 million in non-performing assets including $25.2 million in foreclosed properties on its books. NPAs have risen by $20 million since Dec. 31. That follows a loss of $145 million in 2009.
HRB has said it is in pursuit of fresh capital. It also recently announced it expects to enter into an agreement with state and federal regulators to devise a turnaround plan with mandated provisions for strengthening the company's capital position and dealing with troubled assets.
The company said in a Securities and Exchange Commission filing that Petrovich's departure would be effective June 4 and that his decision "reflects his desire to pursue other opportunities outside of the banking industry."
But it looks like he flew the coop early.
A receptionist at the corporate office in Norfolk today said Petrovich is no longer with the company.
Petrovich was previously CFO of Roanoke-based American National Bank and Trust Co. Upon joining the company, HRB said Petrovich was to be paid an annual salary of $200,000. He also received a $25,000 moving allowance to assist with his relocation expenses.
The roll of CFO will be filled in the interim by Lorelle Fritsch, chief accounting officer, as well as a consultant the company recently hired from Capital One, the filing said.