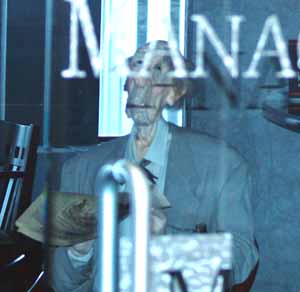 The only one working at MICG Investment Management's Richmond office this week was a dummy.
The troubled Newport News-based brokerage and investment firm shut down its offices last week, including its space on the 19th floor of the Bank of America building after the company got in hot water with its federal regulator. (You can read more about it in a story from the Virginian-Pilot here).
MICG's Richmond office was locked and dark during business hours this week.
The only occupant was a stuffed dummy seated cross-legged in a chair near the glass front door.
A call to the firm's Richmond office prompts only with a message instructing clients to contact their "former" MICG representatives directly. The message also tells callers that client accounts can be serviced through First Clearing Corp., a Wells Fargo subsidiary that provides clearing services for MICG clients.
On May 12, according to the firm's website, MICG voluntarily filed to withdraw its registration as a broker-dealer and thanked its employees and clients for their service and patronage over the years.
"The decision was made to allow MICG's former financial advisors and clients to prepare for the future and the many great things it holds for them," the company said on its site's homepage.
The other pages on the site were dead links.
Scott Durham, senior vice president with CB Richard Ellis, which leases the space in the BofA building, confirmed the office is closed and that MICG was current on its lease payments prior to the office closing.
"It's unfortunate," Durham said of the office closing. "We're trying to understand what's going on ourselves. It's an odd thing that happened."
Durham said attorneys from both sides have been in contact with one another.
"We are working with them as to a solution," he said.
Charles Zerheusen, who manages the property for the landlord (Grammercy Capital), said MICG is "still in possession of their space."
Zerheusen said he does not know exactly when the office closed last week.
An employee at an office next-door said MICG employees closed the office last week and haven't returned.
The firm also closed its Norfolk branch last week, according to a report in the Virginian-Pilot.
MICG's troubles began after the Financial Industry Regulatory Authority issued a cease-and-desist order to MICG earlier this month. According to news reports in Hampton Roads, the firm allegedly failed to meet regulatory capital requirements. FINRA is an independent securities regulator funded by the firms and brokers it oversees.
The Daily Press and the Virginian-Pilot also reported that FINRA is conducting a separate investigation into MICG and its CEO Jeffrey Martinovich for violations related to a hedge fund the firm was operating.
It's unclear what has become of MICG's Richmond employees. The Daily Press reported that 25 MICG employees have left the firm since the beginning of May, including the manager of its Richmond branch.

Michael Schwartz covers banking and finance for BizSense. Please send news tips to [email protected]