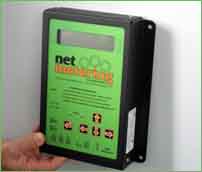 Mike Scelzi hopes property owners are as obsessed with watching the meter as he is.
His young company, Net Metering Inc., offers a system that allows commercial property owners to constantly monitor the electrical consumption of their buildings with the hopes of catching spikes in activity and ultimately saving money.
The patent pending system works thanks to a circuit board that is connected to a building's electric meter. The board is contained in a small black metal box and captures the meter's readings. Results are transmitted over the Internet, where they are converted to a graph that looks similar to stock price chart. Owners can monitor the dips and spikes in real time to learn more about properties' performances at certain times of the day.

Scelzi, the company's CEO, likens the device to a speedometer.
"You can't see electricity," Scelzi said. "At the end of the day, what we do is make power visible."
The average commercial building can use about 1,000 kilowatt hours per day, so small cutbacks in consumption equate to significant amounts of money.
For example, on a Saturday, odds are there aren't many tenants working in a typical office building. Power consumption on the meter should be relatively flat and steady.
By being able to watch what's happening with the meter from anywhere, a property owner can know if something is causing more power to be used than necessary.
The biggest challenge once property owners start watching the meter, Scelzi said, is to get heating and air conditioning systems running in unison with the optimum hours of the buildings operations. Then comes the challenge of getting tenants to change their ways to conserve.
"How do you align people to change their beliefs to change their behaviors to drive results?" Scelzi said.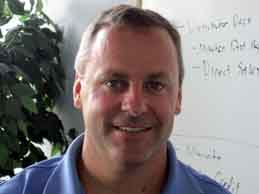 Scelzi, who says his interest in energy started as a teenager when he began auditing the power bills at his dad's McDonalds franchises, spent the past two years developing the system. After testing them in properties owned by Liberty Property Trust, Net Metering launched the product in January.
An engineer by trade, Scelzi had his own heating and air conditioning and construction companies, Energen Technologies Inc. and ETI Construction, before he sold them in May 2008 to Johnson Controls.
He wouldn't give an exact figure, but Scelzi said he made, "enough" from the sales to Johnson to be able to self-fund the creation of Net Metering. He said more than $1 million has gone into the launch of the company, which includes manufacturing the boards at a plant in South Carolina.
The company now has six employees, mostly engineers who designed and tweak the system and help property owners find interpret the readings the meter sends back.
Scelzi, 42, hopes to grow the company with the help of increased sales and hopefully a healthy dose of venture capital money. The cost for the device and monitoring service is about $650 a month.
The company in 2009 brought in about $120,000 in revenue. So far in 2010, it has generated about $35,000, he said.
"It's not much right now, that's for sure," Scelzi said.
There are 100 Net Metering boards installed in properties in buildings in Hampton Roads, Richmond, North Carolina, New York, Baltimore and Washington, and a deal is being looked at for Puerto Rico.
Scelzi is looking for up to $15 million over three years in venture funds so he can hire 20 new engineers and expand the sales force.
Scelzi is confident that his product is a game changer, but it won't be easy raising money in the VC world.
Craig Forbes, co-principal Alpha Omega Wealth Management in Richmond, said VC deals are getting done, despite the slow economy, "but very selectively."
The deals he has seen lately all involve equity stakes, rather than pure debt.
"There's no bank debt available for anybody – unless you're doing some huge deal," Forbes said.
Michael Schwartz is BizSense reporter. Please send news tips to [email protected]