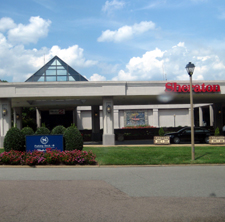 A new flag will rise above the Sheraton Richmond West later this month.
The hotel, which was foreclosed on last summer when its previous owners defaulted on a $29.5 million loan, will become the Ramada Plaza Hotel Richmond West on June 28.
The hotel is located at 6624 West Broad Street.
"The franchise agreement with Sheraton will expire in June, which gave us the opportunity to review the market and explore the possibility of flagging with a different brand," said Brett Ellison, the hotel's general manager, in a prepared statement.
Last June the hotel was taken back by the lender after its owners defaulted on its CMBS loan. (You can read more about that here. ) The owner was a small private group, of which Rhode Island-base Procaccianti Group was a minority partner. The Procaccianti Group was also the hotel operator until that point.
Since then the hotel has been managed by Pyramid Advisors of Boston.
The 372-room hotel opened in 1974 as a Hyatt hotel.
According to Trepp, a provider of CMBS loan data, the hotel's value has fallen significantly since the original loan was issued in 2007. At the time the original appraisal by the lender was $40 million. The most recent appraisal dropped the value down to $8.3 million, representing an 80.5 percent loss of the property. Henrico County recently assessed the property at $16.6 million.
According to information reported by Trepp, Sheraton did not wish to renew its license for 2010. It also states that operating results have been impaired by the opening of the new Westin and Hilton hotels in the area and that whether to sell or hold the property are under evaluation.
Al Harris covers commercial real estate for BizSense. Please send news tips to [email protected]