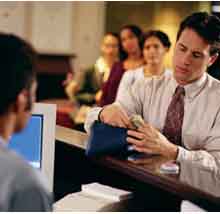 Richmond is home to two of the lowest rated financial institutions in the state, according to bank and credit union ratings released last week.
Life Line Credit Union and Virginia Business Bank received the lowest possible rating for safety and soundness from Bauer Financial, a Florida-based firm that rates all federally insured financial institutions each quarter.
The latest ratings are based on financial information the banks and credit unions submitted to their federal regulators from the first quarter 2010 including capital levels, net income and non-performing assets. The agency ranks institutions using a 0 to 5 star system.
Virginia Business Bank, which is currently party to a mandated turnaround plan with federal and state regulators, is one of only two banks in Virginia to have received a zero rating from Bauer. That rating is based on the bank's recent losses, diminished capital and rising levels of bad loans.
Virginia Business Bank Chairman Mark Hourigan recently told Richmond BizSense that it is prevented from funding any new loans and thereby creating new income while it is under the regulatory agreement.
Life Line Credit Union received a one-star troubled rating from Bauer. Life Line is a $9.8 million credit union founded in 1969 and has members  include employees and volunteers of various medical organizations in the area including Bon Secours Richmond Health Corp., Central Virginia Health Network and Virginia Health Source. It had 2,700 members at the end of the first quarter.
Life Line has the lowest capital ratio of any credit union in the Richmond area. Non-performing loans account for more than 3 percent of its small asset base. It lost $70,000 in 2009, partly related to a $40,000 expense it paid to help shore up the National Credit Union Share Insurance Fund, similar to the FDIC for credit unions.
Messages left for Life Line's CEO Debra Ramsey were not returned.
Of the 35 credit unions headquartered in the Richmond area, Life Line had the lowest rating and was one of only four in the state to receive a one-star rating.
Virginia Business Bank was one of four banks in Virginia to receive a zero rating. Another one is Norfolk-based Bank of Hampton Roads, the charter under which the five Richmond branches of Gateway Bank operate.
Central Virginia Bank received a 1-star troubled rating and Consolidated Bank and Trust, Village Bank and Bank of Virginia received a 2-star problematic rating.
But it wasn't all bad.
Of the 18 community banks headquartered in the Richmond area, four had 5-star superior ratings including Bank of Southside Virginia, First Capital Bank, Peoples Bank of Virginia and Trust Company of Virginia. Union First Market Bank and Bank of McKenney received 4-star excellent ratings.
From a national perspective, 13.3 percent of the nation's banks and 5.8 percent of credit unions are considered problematic or worse with ratings of 2-stars or below. That percentage however is a slight improvement from the previous quarter.
Of the 157 banks chartered to operate in Virginia, 45 received a 5-star superior rating. Thirty-one received four-star, excellent ratings.
Of the 194 credit unions in Virginia, 67 received four stars. Fifty-two received the superior rating.
Michael Schwartz covers banking for BizSense. Please send news tips to [email protected]