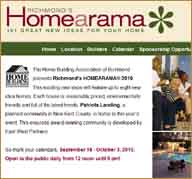 An event used by builders and developers to market new homes is back from a 16-year hiatus.
But this time, there is no housing boom, and the market for million-dollar-plus homes has cooled considerably.
"Obviously it's been a hard time for our industry," said Chris Corrada, a vice president at East West Partners, the local developer of the land where the event will be held. "We wanted to do something exciting again."
The goal of the event, which will run from Sept. 18 through Oct. 3, is to market six specially built homes at Patriots Landing, a development in New Kent County.
The Home Building Association of Richmond will run Homearama and makes money by selling tickets. Corrada said he expects between 15,000 and 20,000 people to attend. The event will also sell sponsorships and tent space for vendors.
A handful of local builders are finishing houses at Patriots Landing, including Main Street Homes, Lifestyle Builders and Developers, Ryan Homes, Southern Traditions, Youngblood Properties and Colonial Homecrafters.
They faced some challenges getting financing to construct and furnish them in a way that did not skimp on the trimmings.
"Some banks said no," Corrada said. "The ones that did realized that 20,000 people looking at this house is the best chance you're going to have anywhere [to sell it]."
Local community banks such as Xenith Bank and Village Bank each financed one of the homes. Fulton Bank and Wachovia/Wells Fargo also provided financing.
Chesterfield County-based Main Street Homes is building a 3,000-square-foot home at Homearama that will be priced around $390,000, according president Vernon McClure.
Main Street is spending at least $70,000 on high-end merchandising to furnish the home and an equal amount on fancy options such river rocks in the shower floor. It will also showcase environmentally friendly features.
"We're not going to make a dime off this house," McClure said. "We're all in it for the marketing."
East West Partners started the Patriots Landing development in 2007, just before the home market hit a deep freeze. The first phase of that project included all high-end lake front homes, Corrada said: "They were certainly bigger and more expensive."
In the three years since, East West has sold about 100 homes at Patriots landing, about one sixth of the planned capacity at the 254-acre site.
The homes that will be pushed at Homearama are smaller than a few years ago.
Corrada said the average home during the housing boom was 2,600 square feet. That average is now about 2,200 square feet, he said.
"Yes, most Homearamas are giant houses," Corrada said. "What ends up happening is they don't sell."
East West set out with a plan to have six homes built at Patriots Landing that will be between 2,300 and 2,800 square feet and priced between $340,000 and $399,000.
The six homes are all under construction, and the goal is to have them sold by the time Homearama comes around.
As for why Homearama went away back in the 1990s, Corrada said he has heard a few different theories.
"The main reason: They ran out of developments," said Corrada. "You need a big development to do it, and after seven years we had hit all the big developments."

Michael Schwartz is a BizSense reporter. Please send news tips to [email protected]