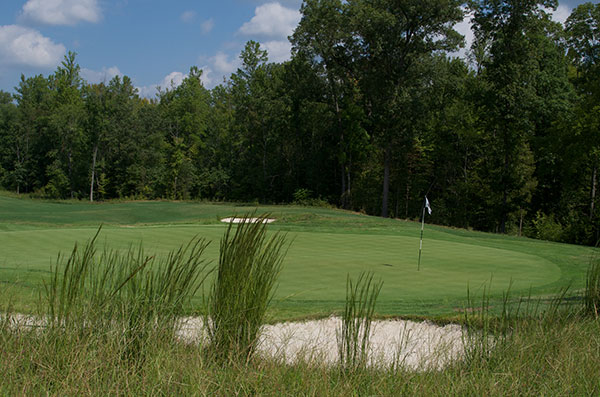 A nine-hole Jack Nicklaus golf course is opening for public play this weekend.
The Westham Golf Club, located just off Hull Street in the beleaguered Magnolia Green subdivision of Chesterfield County, will open to the public this weekend. The club is advertising a $5 special for this weekend.
On Monday, construction crews were finishing a driveway to the clubhouse.
Kris Reinert, the head golf pro and general manager, said that the course will cost $25 during the week and $30 on the weekend. Golfers can play unlimited holes in a day for $35 on weekdays and $40 on the weekends.
Reinert said the course has a great layout with top-notch turf. The greens and tees are bent grass, and the rough is fescue. The fairways, which look slightly burned out in spots, are Bermuda.
Reinert said the 20 members have been playing the course this week.
The past several years have been tough on golf courses, both private and public. Several private courses around Richmond and Williamsburg have gone into bankruptcy or foreclosure, while exclusive private clubs have lowered their initiations to bring in new members. (You can read more about that second part here.)
Public courses are also seeing far less play than in years past and have lowered rates or tried to create promotions with other clubs to entice players.
The Westham course was originally slated to be 18 holes, but only nine were built. Reinert said the other nine have been cut through the woods, but there is no grass yet. He said the course's owner, iStar Financial, hopes to open the back nine in the spring of 2012.
Magnolia Green, the development around the course, went into foreclosure in May 2009. You can read more about that in an RBS story here.
Aaron Kremer covers golf for BizSense. Please send news tips to [email protected]