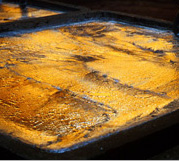 An aluminum mill that has sat dormant since February 2008 will be restarted in September.
Aleris International said yesterday that it would resume limited operations at the facility near Interstate 95 on the Southside with a single shift of employees.
"I can confirm we are hiring about 50 employees into the facility for the restart," said Aleris spokesperson Melissa Olmstead.
The Reymet Road mill is an aluminum-rolling site Aleris acquired in 2005when it purchased Alsco Metals Corp. in a $150 million deal.
Aleris fully halted the mill more than two years ago due to the slowing economy. It said at the time that production at the facility would cease "until industry conditions improve."
Olmstead would not comment on how many employees the company had in Richmond prior to the February 2008 closing, nor would she say whether the Richmond facility might run again at full capacity
"We have no further comments beyond what was in the press release," Olmstead said.
Once operations at the Richmond plant are restarted, the 50 workers will provide Aleris with the ability to fill only internal demand. The plant previously was involved in production for third parties.
Michael Schwartz is a BizSense reporter. Please send news tips to [email protected]dbizsense.com.