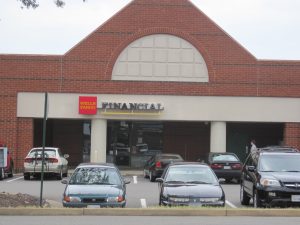 Of the 638 Wells Fargo Financial stores that will be closed as part of a massive restructuring, 14 are in Virginia, including three in the Richmond area.
Wells Fargo announced last week that because of its acquisition of Wachovia it no longer needs a separate network of storefront loan origination offices. It said less than 2 percent of Wells Fargo's real estate loans originated in Wells Fargo Financial stores in the first quarter of this year.
Wells Fargo Financial President David Kvamme said in a prepared statement:
"The economics of a separate Wells Fargo Financial channel are no longer viable, especially now that our customers have access to the largest banking and mortgage store network in the United States."
Although all the Wells Fargo Financial stores will close, the company said only 3,800 of the 14,000 employees in that division will be laid off. The first 2,800 will be eliminated in the next 60 days. It said another 1,000 would likely be eliminated in the next year. The remaining employees will be reassigned to other units within the company.
"We know that this decision will be extremely difficult for those dedicated team members and their families who will be affected," Kvamme said. "We have already identified positions for thousands of our employees and are committed to finding new positions for as many impacted team members as possible."
Wells Fargo Financial has one store on West Broad Street near Short Pump and two on Midlothian Turnpike.
The company did not release specific numbers of where the layoffs will occur. BizSense took a quick drive by the West Broad location today ,and it was open for business as usual.
In addition to closing the stores, Wells Fargo also said it is completely exiting the non-prime mortgage business.