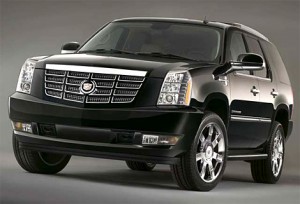 If you drive an Escalade, watch your back.
If you drive a minivan – relax – you have little to fear other than having to watch Elmo videos on continuous loop.
The Cadillac Escalade, Ford F-250 crew pickup, Infiniti G37, and the Dodge Charger have the highest theft rates of any vehicles between 1 and 3 years old on the road according to a report released today.
The Highway Loss Data Institute (HLDI), an affiliate of the Insurance Institute for Highway Safety said theft rates for these vehicles are 3 to 5 times as high as the average for all vehicles.
The vehicles with the lowest rate of theft: the Mini Cooper, Subaru wagons, the Toyota Prius and a couple of different types of minivans, even if there are family DVD systems built in.
See the more details of the report here.
So what can we take away from this list?
No one wants to steal a mini-van or a hybrid.
The van makes sense because most thieves probably work alone so they don't need all that space. But not targeting hybrids is ironic because you'd think mileage is something a thief might need if things get dicey. And they run pretty quiet if you need to roll up on someone undetected.
Kim Hazelbaker, HLDI senior vice president, said:
Sedate family cars and fuel sippers aren't on the hot list. Thieves are after chrome, horsepower, and HEMIs.
The Escalade has ranked worst on the list in 6 of the past 7 HLDI reports. Escalades even come equipped with anti-theft devices that turn the vehicle off if it is stolen.
But Hazelbaker said that doesn't seem to stop crafty thieves.
Even though Escalades have the latest immobilizer technology, thieves still can put them on flatbeds and haul them away.