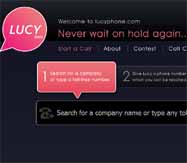 A local startup wants to rescue consumers from the pain of hearing the dreaded words "a representative will assist you shortly." And from the instrument-only Elton John that typically follows.
In March, brothers Mike and Tom Oristian launched LucyPhone, technology that lets consumers avoid being put on hold – or at least waiting around on the line.
LucyPhone allows users to type in any customer service number on its site, and once the caller is put on hold, LucyPhone clicks in, waits on hold for you and calls you back once a customer service rep picks up the call.
"It came from us being really frustrated consumers," said Mike Oristian. "We started seeing clearly that this is a pretty worthy problem to try to solve."
In mid-2009, Tom Oristian, who along with his brother has an engineering degree from Stanford University, went to work to see how the convergence of the Web and phone could solve this problem.
They built LucyPhone using money from their Shockoe Slip web consulting company Decogram Corp. They are LucyPhone's only employees.
And thanks to a New York publicist they hired and some Twittering, use of the service has grown to about 70,000 to 80,000 uses a month. They also launched an application for iPhones that was downloaded 60,000 times last month. Android and Blackberry apps are in the works.
Now their biggest challenge is a pretty important one to solve: making money.
LucyPhone is free for consumers to use, although giving it away wasn't what they had planned from the beginning.
"We thought we were going to launch a service that we would charge people for," Tom said. "We quickly learned that wasn't the right business model."
That's because call center agents are unfamiliar with how LucyPhone works were prone to hang up on the service's automated prompt that tells the rep you are using LucyPhone.
They still wonder whether a pay model would have worked.
"We can't be certain that was the right move because we never did charge anybody," Tom said.
The brothers are now looking at ways to generate revenue, hoping that companies that use customer service hotlines will pay for a tool that can improve the customer service experience. They are pitching companies to pay to have the LucyPhone service built into their call systems and also have LucyPhone widgets on their websites.
"We want to be outside innovators to help companies provide a more excellent experience for customers to mitigate that hold time," Mike said.
They've also been pitching potential investors for venture capital money for LucyPhone to develop more on the technical end and to get a sales force going.
Interest has come primarily from investors in Silicon Valley and Mike says they hope to close on $1 million in VC money by the end of the summer.
Asked what kind of revenue they think LucyPhone can generate, the brothers say it's difficult to quantify.
"We can look at the size of the problem," that problem being angry customers who get left on hold too long. "We know the problem is a big deal."
"You can do the math if you're a corporation," Tom said.  "In a down economy, competing on customer service is critical."
The brothers came to Richmond from the West Coast. Tom, 30, moved here in 2006 when his wife was enrolling in dental school at MCV. Mike, 37, followed in January of this year, so he's getting used to living in the South and still has his California plates on his car.
As for the name, Tom wanted to name his first child Lucy, but another name was chosen.
"The next baby that came along was this project," Tom said.
Michael Schwartz is a BizSense reporter. Please send news tips to [email protected]