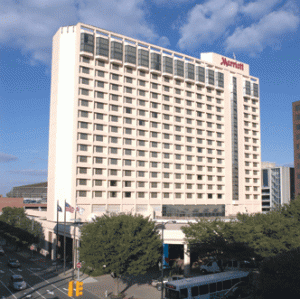 A Richmond-based real estate fund has gone on a buying binge lately and wants to raise another $2 billion to keep gobbling up more property.
With several hotel acquisitions in the works and a huge new investment fund soon to launch, Apple REIT Companies has billions of dollars worth of deals in the hopper.
The Richmond-based real estate investment trusts owns 214 hotels across the country that generated combined $203 million in revenue in the second quarter for a combined profit of $29.3 million, according to reports filed with the Securities and Exchange Commission.
It's latest move revealed in a filing last week that the company on August 11 created Apple REIT Ten, the fifth REIT in the Apple family through which it plans to raise up to $2 billion to acquire hotels, residential apartment communities and other income-producing real estate.
According to Kelly Clarke, Apple REIT's director of investor relations, neither the company nor its Chairman and CEO Glade M. Knight was able to comment on any of the Apple REIT deals.
But Knight has sent several letters to the REITs' shareholders in recent weeks discussing the second quarter and the future outlook of the hotel industry including the company's efforts to pursue "advantageous buying opportunities."
"Signs of recovery are evident at the majority of our hotels," Knight told investors in a recent letter. "Although some of our markets still face economic challenges and have experienced fewer signs of recovery, we are generally optimistic that the worst is behind us."
Apple REIT Nine has been the busiest.
Since March 31, 2010, Apple REIT Nine has acquired 10 hotels and has entered into pending all-cash contracts on another six hotels this month. If those contracts close, Apple REIT Nine will spend $121.1 million for three hotels in Texas, two in Tennessee and one in Arizona for a total of 760 rooms.
On July 30 Apple REIT Nine spent $32.9 million on two Hilton Garden Inn hotels in Louisiana. They have a combined 287 rooms. That same day it bought another 107-room Hilton Garden Inn in Silver Spring, Md. for $17.4 million, according to a release from Hotel Assets Group, which negotiated the sale.
So why the optimism to continuing buying properties and start a new fund?
Keith Thompson, who owns Atlanta-based Hotel Assets Group, said sentiment has changed in the hotel industry in the last few months.
"There is now a lot of interest from a lot of brand new investment funds formed in the last 6-8 months," said Thompson. "There is the emergence of 15 or 20 new funds that are trying to buy the same type of product Apple is buying."
Thompson said things have also changed in the market since April – switching mostly from a buyer's market back to a more level playing field thanks to rising levels of revenue per available room also known as RevPAR.
"On a national level, RevPAR was continuing to fall every month for the last 18 months," Thompson said, so hotel owners who were struggling were trying to get out. "Now generally speaking [RevPAR at] most hotels in America are generally going up," Thompson said. "That's why there is a lot more interest in investing in hotels now."
Apple REIT Nine to date owns 48 hotels with 5,927 guestrooms in 21 states and isn't done yet. It's looking to sell another 39 million units for $11 a piece or about $429 million in addition to the $1.4 billion it has raised since its inception in April 2008.
Apple REIT Eight owns 51 hotels with 5,908 rooms in 19 states.
Apple REIT Seven, which owns the downtown Richmond Marriott also owns 51 hotels with 6,426 rooms in 18 states. Read more about its work on the downtown Marriott here.
Apple REIT Six, Inc. currently owns 68 hotels with 7,897 guestrooms 18 states.
Some of Apple's hotels have also benefited from recent natural and man-made disasters.
Knight told investors that Apple REIT Seven's Homewood Suites in downtown New Orleans has been a hotel of choice for the U.S. Coast Guard during clean-up efforts for the Gulf oil spill.
"We anticipate this will be a long-term piece of business," Knight said in a letter.
Apple REIT Six's hotels in Panama City, Fla. also saw increased business directly related to the spill.
When unusual amounts of rain caused massive flooding in Nashville in May, Apple Six reported that its Homewood Suites there was not damaged. It actually saw increased occupancy rates in May and June thanks to the presence of FEMA works and displaced residents.
Michael Schwartz is a BizSense reporter. Please send news tips to [email protected].