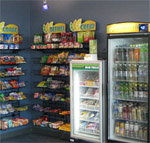 After 17 years in the vending business, Scott Halloran has latched on to a healthier, more convenient model — and it generates more sales.
In the Innsbrook office of engineering firm AECOM, you won't find any vending machines. Instead, Halloran has rolled out a self-service mini-market that resembles the inside of a small convenience store. There are drinks and snacks, but also locally prepared meals that employees can buy with a swipe of a card.
Halloran also runs a break room market at the Child Fund International headquarters in the West End. Both markets rolled out in August.
Sales have jumped three to four times above what was generated when vending machines were in place.
"I have more space to bring in higher end products," Halloran said, "and in the same space I can expand the number of products offered."
The chance to take a close look and examine the products before you buy them makes a big difference when making a purchasing decision, Halloran said. Plus there is no digging for change or small bills.
Halloran is also now able to offer fresh meals that customers can buy and pop in the microwave. They are prepared by a local caterer, Chef Maura, and the selection changes every week. At the AECOM break room, Halloran said they sell about 80 a week.   Halloran the employees have embraced the new market.
"I haven't got one negative response, because they are getting better foods and better choices," Halloran said.
The technology behind the market is from North Carolina-based Avanti Markets, for which Halloran is now an authorized representative in the Richmond market. For each break room he outfits, Halloran purchases a self-service kiosk from Avanti, which employees use to scan the barcode of the items they wish to purchase and pay. Avanti also handles all the back-end software and reaps a small commission on the sales.
Without giving specific numbers, Halloran said he is investing thousands of dollars to build out each new Avanti Market. Halloran was introduced to the concept at an annual vending trade show that he helps organize in Myrtle Beach.  Halloran started in the vending business after purchasing four machines at an expo for just under $4,000.
He has since grown the company into a multimillion-dollar business with about a thousand vending machines and 20 employees. And although he is keeping the machines, Halloran said his principal focus is to continuing expanding the self-service markets, adding three or four a month.  In January, Halloran renamed his company Halloran's after going by Fresh Direct for several years. He said the name change was a result of confusion between his company and an online grocer in New York that had the same name.
BizSense wrote about one of Halloran's local competitors earlier this week. Read that story here.
Al Harris is a BizSense reporter. Please send news tips to [email protected]