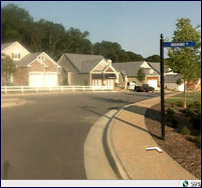 Hank Wilton, a long-time Richmond developer with a family history in the business, has declared personal bankruptcy.
Wilton has 62 creditors, according to the bankruptcy filing and lists liabilities of $50 million to $100 million. He lists assets of $10 million to $50 million. That makes the case one of the biggest personal bankruptcy filings in Richmond since the recession began.
Wilton owes $67.8 million to the top 20 creditors alone, which includes local and national banks and other entities. That includes a total of $28.1 million to several local banks including First Capital and Union First Market are owed $6.6 million and $3.2 million, respectively, according to the filing. Franklin Federal Savings Bank is owed $2.7 million.
Over the last six months, banks have filed lawsuits against Wilton trying to collect unpaid loans on properties that went into foreclosure.
For example, Paragon Bank filed a suit in May against Wilton and Wilton Development Company seeking $333,143 over unpaid balances for lines of credit taken out by the company and guaranteed by Wilton.
The Wilton Companies, which owns, manages and develops property, is not involved in the bankruptcy filing. Hank Wilton is a shareholder and a member of the board of the Wilton Companies, but he stepped down from the role as chairman.
Paragon foreclosed and sold two parcels of property in the Westhampton Glen subdivision in Henrico and sold 81 foreclosed acres for $429,000, leaving an unpaid total of $272,853 after fees.
A project he was involved with called James River Commons went into foreclosure last month when a loan of $3 million went unpaid.
And Wilton also got behind on his loan payments for a proposed project in Steamboat Springs, Colo.
BizSense was unable to contact Hank Wilton for this story. You can read a more detailed story that quotes Wilton in a BizSense exclusive story here.
Bob Atack, a local homebuilder with decades of experience in the industry, said Wilton didn't make any major gaffes in his business operations, but that his demise was the result of the economy.
"The real estate economy in Richmond is a lot worse than people think," Atack said.
"Wilton, that's an iconic family in real estate, and it's the culmination and a reflection of what's going on in the real estate market."
Wilton is being representing by Robert A. Canfield, from the local firm of Canfield, Baer & Heller.
Much of the debt listed in the bankruptcy filing was secured by shares of the Wilton Companies as collateral.
Top five local creditors:
Hampton Roads Bankshares (including Gateway Bank and the former Bank of Richmond): $13.6 million
First Capital Bank: $6.6 million
E.C. Wilton: $4.9 million
Union First Market Bank: $3.2 million
Franklin Federal Savings Bank: $2.7 million
Aaron Kremer is the BizSense editor. Michael Schwartz contributed to this report. Please send news tips to [email protected].