The views expressed in Guest Opinions represent only those of the author and are in no way endorsed by Richmond BizSense or any BizSense staff member.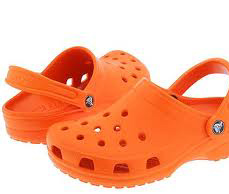 Last weekend I wore a pair of "U-Va. orange" Crocs to a football game. I got laughed at, but I learned a valuable business lesson, as well.
A longtime friend sitting nearby looked at the shoes on my feet and broke into a grin. Pleased that she seemed to appreciate my fashion and fan statement, I told her I was glad she liked them. As her smile turned into a series of giggles that attracted the attention of nearby fans, she said "Oh, I don't like them. I'm just always amazed that anyone has the nerve to wear Crocs in public."
Half of the people around us nodded their agreement — and they aren't alone. Crocs are the shoes that people love to hate. More than 1.5 million people are fans of an anti-Crocs group on Facebook.
But a doctor sitting behind us proudly raised his feet — encased in big blue Crocs — and said, "I've got three pairs." A very well dressed 30-something woman in front of us added, "I have 10 or 12 different styles. I love them."
It turns out that Croc lovers aren't alone, either. In its first eight years, the company sold 120 million pairs of shoes and, after a rocky couple of years, is making a strong comeback. Sales are growing, and with a gross margin approaching 57 percent, the net income for the last quarter rebounded to $32 million.
So how can a shoe manufacturer succeed with a product that most people seem to hate?
They recognized that changes in the business environment and in the way consumers get their information are combining to create opportunities to build a competitive advantage in targeted markets.
Traditional methods of distribution in the shoe industry require large inventories, long lead times and limited selections. Forced to limit their selection of styles to those that appeal to a broad base of customers, there is limited opportunity to build brand awareness and loyalty.
The founders of Crocs were new to the shoe industry and took a different approach. They lowered costs by introducing new materials. They reduced lead times and inventory requirements by skipping the traditional shoe store distribution channel, and they reduced costs by hanging the shoes on store fixtures instead of using expensive boxes.
Without the need for sales help to try on shoes, Crocs became almost an impulse purchase.
Bright colors and quirky styles attracted the eye of shoppers and could even be tied into affinity groups (red for Valentine's Day, orange for U-Va. alumni, etc.).
The result has been strong initial sales to a significant market segment and, perhaps more importantly, a loyal customer base that keeps coming back. Crocs now has scores of styles for men, women and kids, and, like the fan with 10 to 12 styles, customers buy multiple styles.
Keep an eye out for me at the game tomorrow. It's getting cooler, so I will probably be wearing my fleece-lined Crocs.