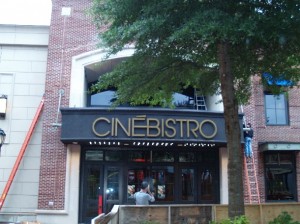 The newest tenant at Stony Point Fashion Park rolled out the red carpet Sunday in a preview before its grand opening next week.
The 35,000-square-foot CineBistro will open Oct. 22 and bills itself as a fancier version of the dinner-and-a-movie concept where customers are served dinner while watching the feature presentation.
"We think our concept is a perfect match for the [Stony Point] park," said CineBistro Executive Director Fred Meyers.
According to General Manager Matt Russell, the Richmond CineBistro has hired a staff of 60 employees out of a field of 800 applications. Richmond is CineBistro's sixth location and its second in Virginia. It has one in Hampton at the Peninsula Town Center.
The concept first opened in Miami in 2008 and has expanded pretty quickly, opening four locations in the past four months. An Atlanta location is planned for next year.
CineBistro was started and is owned by Cobb Theaters, a movie theater company out of Birmingham, Ala.
Maintaining its upscale image comes in part from only allowing customers 21 and older. The Richmond location has six theaters and a snazzy bar and lounge area. All tickets to see a movie at CineBistro must be reserved ahead of time, and those who plan to eat dinner in the theater are asked to arrive 30 minutes prior to the start of the movie.
Ticket prices are pretty standard: $7.50 for a matinee and $10 for an evening show.
Get more info on the new local location here.