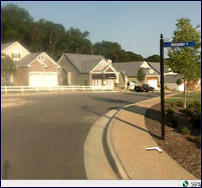 Developer Hank Wilton had a simple explanation for how he came to be faced with a roomful of creditors at the first hearing of his bankruptcy case.
"I bought too much property," he said.
Wilton, who has overseen more than 30 major subdivisions in the Richmond metro area, has filed for Chapter 11 bankruptcy protection, claiming liabilities around $70 million. (Read an in-depth Q&A with Wilton about how things fell apart in a BizSense story here.)
Wilton personally guaranteed several bank loans and is still on the hook for the balance left over after the banks foreclosed on and auctioned off the properties. Several suits have been filed against Wilton by banks looking to collect those deficiencies.
"I couldn't keep paying the interest to carry the property, and now it is being taken over by the banks. And I can't sell it at this point," Wilton said at his hearing.
According to his filing, Wilton's assets total $13.9 million and his liabilities total $93.2 million, about $28.1 million of which is owed to creditors with secured claims.
Asked what he could have done to avoid this situation, Wilton said that he would have taken deeper discounts to get rid of excess property while people were willing to buy it and banks were willing to finance the purchases.
The banks to which Wilton owes money to include First Capital Bank, Hampton Roads Bankshares, River City Bank (now part of Village Bank) and Wachovia. Those banks currently hold shares of local real estate firm the Wilton Companies that Wilton pledged as collateral. The Wilton Companies is a separate company founded by Wilton's father, E. Carlton Wilton, and is separate from his development endeavors.
The value of those shares was discussed at the hearing and was a point of concern for the various bank representatives present. The shares were valued  at $600 a share in the filing, compared with a valuation two years ago that stated that they were worth $1,250 a share.
The banks are currently seeking buyers for the stock, according to Wilton and other sources.
Robert Canfield, Wilton's attorney, told the trustee that they are close to securing debtor-in-possession financing as part of their exit plan and that the lender would place a lien on Wilton's assets as collateral.
Among Wilton's assets listed in bankruptcy documents is a wine collection valued at $19,081, a gun collection valued at $5,956, a 1967 Ford Roadster valued at $27,500 and memberships to 10 country clubs.
His property includes his residence in Goochland, valued at $1.8 million, as well as three other properties. Other assets include his remaining shares of the Wilton Companies and his percentage partnerships in various business ventures, including the Shenandoah Golf Club near Charlottesville.
In Wilton's statement of financial affairs, his 2008 income was reported as $1.6 million. In 2009, it was reported as $429,840. The reduction is largely due to the dividend from the Wilton Companies being reduced by 75 percent during that time, Wilton explained during the hearing.
The bankruptcy filing also included an account of property sold within the past two years. Among them were two very expensive automobiles. In March, Wilton sold a 2004 Bentley Continental for $64,000. In July, he sold a 2003 Aston Martin for $46,000. When asked why he sold the Aston Martin for that amount, Wilton answered matter-of-factly.
"That's all he would give me," Wilton said.