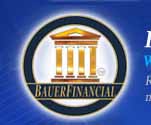 Richmond is home to three of the four lowest-rated banks in the state, according to ratings released last week.
While working through plans to turn things around, Central Virginia Bank, Bank of Virginia and Virginia Business Bank received the lowest possible rating for safety and soundness in third quarter bank and credit union ratings from Bauer Financial, a Florida-based firm that rates all federally insured financial institutions each quarter.
Bank of Virginia is a newcomer to the zero-rating club, having fallen from a two-star "problematic" rating since the end of the second quarter. Both Central Virginia Bank and Virginia Business Bank received a zero rating for the second quarter in a row.
All three banks are under written agreement with regulators and have made moves recently to try to raise capital and turn things around.
Richmond is also home to the lowest-rated credit union in the state.
Life Line Credit Union, a $10 million institution whose members include employees and volunteers of various medical organizations in the area, such as Bon Secours Richmond Health Corp., Central Virginia Health Network and Virginia Health Source, was the only credit union in Virginia to receive a zero-star rating during the third quarter.
The ratings are based on financial information the banks and credit unions submitted to federal regulators from the second quarter and include capital levels, profits and non-performing assets. The agency ranks institutions using a five-star system.
For the third quarter, 51.3 percent of the banks and credit unions in Virginia are considered recommended by Bauer, having received a four- or five-star rating from Bauer. The number of troubled or problematic institutions in Virginia rose to 12 percent during the third quarter, up from 8.4 percent.
Georgia had the highest percentage of troubled and problematic firms, with 40 percent of its financial institutions in those categories, followed closely by Florida and Arizona.
But there was some good news on the national scale, according to the ratings. Thirty-eight percent of the nation's banks earned a five-star rating, the first time the numbers have hit that level since 2007, Bauer said. And 59 percent of all banks in the nation were rated at four or five stars, the highest percentage since the second quarter of 2008.
Credit unions fared better nationwide, with 65 percent rated with four or five stars.
Only 5.6 percent of credit unions nationwide are rated two-stars and below, compared with 12.7 percent of banks.
As for Richmond's bottom-dwelling trio, their turnaround strategies are still in limbo.
Virginia Business Bank is working out plans that might include raising capital, selling the bank or merging into another bank. Its previous plan to raise $20 million, change its name and move to the Eastern Shore fell short. Read more about that here.
BofVa. is waiting on a deal to sell a majority stake of its stock to a Washington group in exchange for sorely needed capital. Read more about the delays in the deal here.
CVB postponed a plan to raise capital until next year.
Two other local banks are two steps above the basement: Consolidated Bank and Trust and Village Bank. They both received two stars, which Bauer Financial calls a "problematic" rating.
Consolidated Bank is also under a written agreement with regulators and will soon be merged into a new bank being created by its West Virginia parent company, to be called Premier Bank. (You can read more about that in an RBS story here.)
Village Bank remains profitable through the first three quarters of the year but has been battling a high level of non-performing assets. Its non-performing assets account for 6.5 percent of its total assets, as of the end of the third quarter.
Five local banks are considered recommended by Bauer after having received four- or five-star ratings, including Bank of McKenney, Trust Company of Virginia, Union First Market Bank, Bank of Southside Virginia and Peoples Bank of Virginia.
Of those, only two received the five-star superior rating: Bank of Southside Virginia and Peoples Bank of Virginia.
Nine local credit unions earned five stars. Thirteen credit unions received four stars.
Local 5-star banks
Bank of Southside Virginia
Peoples Bank of Virginia
Local 5-star credit unions
Dupont Fibers FCU
Hopewell Chemical FCU
Kraftsman FCU
Vantage Point FCU
Cadmus CU
Call FCU
Dominion CU
Nabisco Employees CU
Resources FCU
Michael Schwartz covers banking for BizSense. Please send news tips to [email protected]