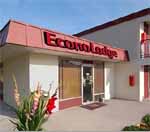 Three local companies declared bankruptcy this week, including the owner of a truck stop and motel near Kings Dominion and the owner of an 84-acre undeveloped tract of land, a trailer park and a Mexican restaurant.[private]
TSO Inc., the owner of the Econo Lodge at the Park and Roady's of Doswell truck stop on Kings Dominion Boulevard filed for Chapter 11 bankruptcy.
TSO hadn't offered any detailed creditors reports but said in its filing that it had between $10 million and $50 million in assets and debt of $1 million to $10 million.
It listed 45 creditors, including the Virginia Department of Taxation, Hanover County, Peoples Bank, various local and non-local vendors and distributors, and Choice Hotels International, owner of the Econo Lodge brand.
Meanwhile in Chesterfield, Chester Industrial Park LLC and Perlock Center LLC both filed Chapter 11. Both entities listed the same manager, Mark Carnes, and listed Union First Market Bank as a creditor. The real estate tied to both entities was auctioned off this week in foreclosure.
Chester Industrial Park listed assets of $425,000 and debts of more than $1 million, including $1.6 million owed to Union First Market. The company's assets are an 84-acre piece of land at 10800 Jefferson Davis Highway. That parcel went to auction on Tuesday via Motley's.
According to the auction listing, the property is heavily wooded and is one of the largest undeveloped tracts of land in that part of Chesterfield County.
Just up the road, Perlock Center filed Chapter 11, listing as its assets a 1.38-acre property that is home to an operating Mexican restaurant and a 12-unit mobile home park.  This property was also auctioned off by Motley's. You can see the listing here.
The Perlock entity owed $477,000 to Union. The revenue it had generated from the mobile home rent and rent from the Cancun Restaurant has dropped from $64,000 in 2008 to $25,000 so far this year.
According to the Perlock bankruptcy filing, Union sued Mark Carnes and won on a judgment in July. Perlock also was in the process of suing its various tenants, presumably for back rent.
Michael Schwartz is a BizSense editor. Please send news tips to [email protected] [/private]