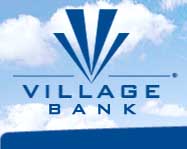 Village Bank has become the fifth local bank to be put under a written agreement with regulators to help the bank come up with a plan to deal with souring real estate loans.
The Midlothian-based bank's holding company, Village Financial Corp., revealed in a Securities and Exchange Commission filing Dec. 15 that it had entered into a memorandum of understanding with the FDIC and the Virginia Bureau of Financial Institutions.
The agreement, similar to those that have been issued to other Richmond banks from the Federal Reserve, aims to correct practices at the bank that have led to high levels of non-performing loans, including curbing certain type of lending and assessing whether current management has the ability to deal with the bank's issues.
Village joins Virginia Business Bank, Central Virginia Bank, Consolidated Bank & Trust and Bank of Virginia, all of which previously entered into written agreements with the Fed and the Virginia BFI.
Essex Bank and its Glen Allen parent company, Community Bankers Trust Corp., said this year that it expects to enter a written agreement in the first quarter of 2011. (You can read more about that here.)
Such agreements do not necessarily mean that the institutions are in dire straits. Village Bank, despite its high levels of non-performing assets, has been profitable through the first three quarters of the year.
But regulators do step in as they see things headed in bad direction.
In Village's case, that includes $12.9 million in foreclosed property on its books as of the end of the third quarter.
And it reported more than $33 million in loans that are either past due or non-accruing, the majority of which are commercial real estate, construction and land development loans.
Village Bank was founded in 1999 and had $579 million in total assets at the end of the third quarter. Its total loan portfolio is at around $450 million.
Village Financial disclosed 14 steps it must take to comply with the memorandum.
Those steps include a reduction in its concentration in commercial real estate lending and a plan of how it will handle bad loans valued at more than $500,000.
The bank must eliminate any assets from its books classified as a loss and get rid of 50 percent of assets classified as doubtful in terms of being repaid by the borrower.
It must also enhance its loan review program and review the performance of existing officers and whether there is a need to bring in outside help.
It is not uncommon for banks dealing with such issues to hire consultants who have experience dealing with bad loans.
In some cases, the banks that come under these agreements see turnover at the CEO position. Such was the case with Virginia Business Bank, Central Virginia Bank and more recently Bank of Virginia.
The agreement also limits to bank's asset growth to 5 percent a year.
As is typical with these agreements, the bank is prohibited from paying a dividend to shareholders.
Village CEO Tom Winfree did not return a call and email by press time.
Village Financial said in its filing "the management of the bank believes that it is currently or is in the process of being in full compliance with all of the items in the memorandum."
Michael Schwartz covers banking for BizSense. Please send news tips to [email protected]