Central Virginia Bank's search for a CEO is over, but its choice candidate is no surprise.
Herb Marth, whom the company hired last June as a consultant and interim COO, got the job.
He takes over a $423 million bank that has been battling losses, trying to fix tens of millions in troubled loans and operating under a written agreement with regulators.
The bank's main priority for the new year is raising capital, Marth said.
"There are some signs that the market may be improving," he said, "but we — the banking community — have got a ways to go yet before the markets really come back."
CVB attempted to raise $15 million last year but postponed those efforts in late September due to what it said were unfavorable market conditions. Read more about that here.
CVB will revisit its capital raising plan when the market is more in its favor.
How will the bank know when the time is right? Marth said that's where the investment bankers come in. CVB has hired Davenport and Co. to keep its eyes on the market.
"These investment bankers are in it to make money," Marth said. "I feel certain, when the time is right, they will let us know."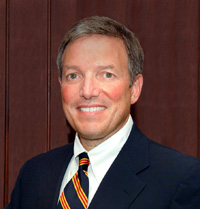 CVB hasn't raised capital since it received $11.3 million from the U.S. Treasury in January 2009 through the Troubled Asset Relief Program. In February, CVB said it had to defer the TARP dividends it was supposed to pay the Treasury each quarter.
"In the meantime, we continue to do all the right things — control our costs, minimize loan losses, make good new loans and take new deposits," Marth said.
Marth's new title also comes with a new employment agreement and the usual bank CEO compensation.
He signed a three-year contract with an initial base salary of $260,000 a year. He also gets credited two years into the bank's executive retirement plan and a car allowance of no less than $600 per month.
The job also comes with a grant of 18,539 shares of CVB restricted stock, although the value of those shares is debatable. It's a lightly traded stock that has been hovering around $1 per share since the summer. A year ago it was trading at about $4 per share.
And in case a deal goes down and there's a change in control at the bank, Marth has the usual salary and benefit continuation.
Marth replaces Larry Lyons, the bank's longtime CEO who announced his retirement last summer. Lyons was with the bank for 37 years, 28 of which he spent as CEO. His last day was Dec. 31.
"I can't think of a guy who deserves retirement more than Larry," Marth said.
Lyons will stay on as member of CVB's board of directors. Marth will also take a seat on the board.
Michael Schwartz covers banking for BizSense. Please send news tips to [email protected].