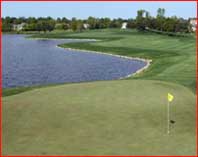 A Richmond golf club has entered bankruptcy protection, unable to refund millions of dollars in initiation deposits owed to current and former members.
The Dominion Club, a 19-year-old country club that includes a Curtis Strange-designed golf course in Western Henrico County, filed for Chapter 11 bankruptcy protection Monday evening. It notified members at a meeting at the club.
The Dominion Club did not have the money to pay back $1.7 million in initiation fees that were contractually supposed to be returned at the end of December to current and former members, said Vernon Inge, a lawyer from LeClairRyan who is representing the club. (You can see a list of the members and former members, and what they are owed in a filing here.)
Other members were supposed to eventually be paid back $10 million to $11 million that they paid in initiation deposits. But those funds weren't due just yet. That will make those members unsecured creditors, Inge said, adding that it's unlikely unsecured creditors will get much money back.
Some vendors might also not get all they are owed, Inge said. Despite these problems, the club has been mostly up-to-date on its bills and will keep paying them after the filing.
The country club, which opened in 1992 and was developed by HHHunt, is operationally on better financial footing, Inge said. HHHunt is owed $10.6 million from the club and will turn that credit into equity, Inge said, meaning the developer will lose that sum.
"It's business as usual," said Inge. "It will be completely transparent to the users of the club that we are in Chapter 11 and the club will be providing services when the weather permits, just like it's always been."
Dominion is the second local course to enter bankruptcy in recent years. In October 2009, the Federal Club filed for Chapter 11 bankruptcy protection. That course was eventually sold for less than half of what it cost to build it.
Other golf clubs have filed Chapter 11 bankruptcy protection in Williamsburg and Lynchburg. And even courses that cater to the wealthy are struggling to find enough new members to replace ones that have given up their memberships. (You can read about that in an RBS story here.)
Compared with the Federal Club, the Dominion Club has far more members (more than 700 compared with fewer than 150) and has enough cash flow to maintain the course, Inge said.
Inge said the Dominion Club has paid back $6 million in refunds. However, the club does not have enough to keep paying.
Members were first notified that initiation deposits would not be refunded in a letter that went out last week.
HHHunt has been operating the club, Inge said, and might try to turn over control to the members. That move was also tried at the Federal Club, but the member-group did not end up bidding.
"The members will basically be the only creditors," Inge said. "Ultimately, we want to find a way for the current members to control the golf course."
HHHunt considered selling the club to the members last decade, but the deal fell through.
Dale Austin, the chief financial officer for Patient First and a member at the Dominion Club, said he paid an initiation of $16,000. Austin said members were supposed to get their money back after a certain number of years or when they left the club.
"If you resigned from the club, you had to do it on Aug. 1 and it was effective Dec. 31," Austin said. "Typically, a member only gets his or her money back when the club can sell the membership."
Aaron Kremer is the BizSense editor and covers the golf business. Please send news tips to [email protected].