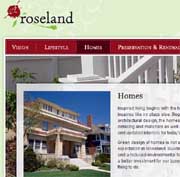 A company that owns about a quarter of the large Midlothian mixed-used development Roseland has declared bankruptcy.

Roseland Village LLC, which owns 342 acres of Roseland's 1,300 total acres said late Thursday that it had filed for reorganization under Chapter 11 bankruptcy after its financing was not renewed by its lenders.
The company said in a prepared statement that its members unanimously agreed that Chapter 11 reorganization was in its best long-term interest.
"Banks in general and our banks in particular are facing enormous pressure from federal regulators and examiners to reduce their exposure on commercial land loans, and the financing on this property is not being renewed," said George "Buddy" Sowers Jr., manager and member of Roseland Village LLC in a statement.
"We are faced with the decision of either having this syndicate of banks seize the property as collateral for the loan or petition the court for approval of a long-term plan that facilitates the timely and orderly development of infrastructure on this important piece of property."
According to the initial bankruptcy documents, Roseland Village LLC listed between $10 million and $50 million in assets and the same range of liabilities.
Among the list of its unsecured creditors is Chesterfield County, to which Roseland Village owes $220,000 in real estate taxes.
The only bank listed is Glen Allen-based Franklin Federal Savings Bank, presumably the company's main lender on the project.
"This filing is designed to preserve the vision of our project and allow us to focus on a medium- to long-term business plan in the face of this historically difficult lending and banking environment," Sowers said.
The grand plan for Roseland was unveiled prior to the real estate crash and was to include more than 5,000 homes, more than 1 million square feet of office and retail space, and a town center.
According to the Roseland website, homes there were originally supposed to be available beginning in 2010. Single-family homes, the website said, were to sell from less than $200,000 up to multimillion-dollar estates. The plan also called for rental properties, including penthouse condominiums in Roseland's Old Town.
Businesses that were to fill the office and retail space were expected to open in 2010 and 2011, according the site.