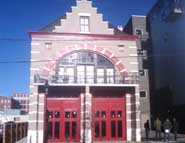 A Virginia restaurateur behind a chain of burrito bars is launching a new concept in Shockoe Bottom.

Ron Morse, the man behind the Baja Bean Company, is opening a burger restaurant called Station 2 inside a newly restored, turn-of-the-century firehouse.
He plans to open the restaurant this spring at East Main and 21st streets.
"I've had this burger concept for a while and was looking at some smaller spaces and those fell through. Then we found this," Morse said.
The firehouse is part of the apartment and retail development covering an entire block.
Shockoe Valley Heights, as it's called, is a joint venture between Sensei Development and Monument Construction.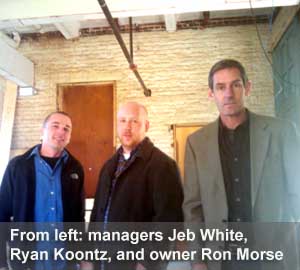 Morse opened the first Baja Bean in Williamsburg in 1989. He said he wanted to open another restaurant but felt that it was time for something different.
"To be in the Mexican segment now, there is just an overkill of places out there," Morse said. Baja Bean has four locations: one in Richmond, one in Staunton and two in Charlottesville.
Ryan Koontz, a manager at the Richmond Baja Bean, spotted the new location and brought it to Morse.
"We've been looking at the spot since it was boarded up," Koontz said.
Koontz will manage the new restaurant along with fellow Baja Bean manager Jeb White.
Station 2 will have sit-down service, a full bar and an eclectic variety of burgers. Morse said he'll have a basic burger and fries combo for less than $4, as well as more fancy burgers with Virginia-raised beef that will cost closer to $10.
Gourmet burgers are taking off as the latest food craze, with higher-end joints making headway across the country. Even in Richmond, Station 2 will have a bit of competition. Boom Boom Burgers is opening a few blocks away on Franklin Street and offering burgers made from locally sourced ingredients. (You can read about that restaurant in an RBS story here.)
Morse's restaurant is still in the permitting phase, but developer Marc Galt of Sensei Development expects the project to be completed within three months.
Galt said the apartment building next to the firehouse is basically complete and is awaiting its certificate of occupancy from the city. Six of the 24 apartments are preleased, Galt said. Rents range from $1,050 to $1,500 a month.
"That shows that demand down here is still very strong," Galt said.
The second floor of the firehouse also has three apartment units, two of which are leased.
Development of the two buildings cost a total of $4.1 million, including acquisition costs. The buildings are marketed together as Engine Company Lofts.
Last winter, Galt and his partners finished renovating a warehouse into what is now called Bobber Flats on the opposite corner of the block. That 41-unit apartment building is fully leased, Galt said.
The next phase of development for the block, called Old Stone Row, is a new 96-unit apartment building, which Galt said should be finished in July.