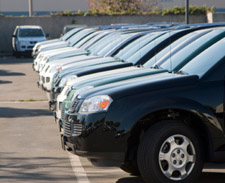 The rip-roaring days for new-car dealers seem like a distant mirage in the rear-view mirror.
But according to the latest new-vehicle registration data released last week by the Virginia Automobile Dealers Association, the long climb back up might be beginning.
Just over 30,000 new cars and trucks were registered in the City of Richmond, Chesterfield County, Henrico County and Hanover County in 2010, according to the new VADA numbers. That figure was an increase of about 1,000 from 2009 and was just enough of an uptick to give dealers and the industry some hope.
"We were hesitant for the whole year," said VADA spokesman Michael Allen. "But by the end of the year, we were pretty comfortable saying things were turning around."
Allen described 2009 as "heartbreaking," 2010 as "hopeful" and 2011 thus far as "promising."
"It's going to be a long, slow climb," he said. "But the 2010 numbers certainly do inspire some hope that things are turning around."
(See the figures here. )
It's a far cry from the heyday of 2004, the all-time high point for the automotive industry, when almost 53,000 new car and trucks were registered in the region's four main localities.
Those figures crashed back to earth by the recession in late 2008 and throughout 2009 when only about 29,000 new cars and trucks were registered in Henrico, Chesterfield, Hanover and Richmond.
Reasons to be hopeful these days include the rise of hybrid vehicles and electric cars that are beginning to hit the market, Allen said. And the fact that the average age of a vehicle on the road these days is almost 10.5 years in Virginia, the oldest they've ever been, leaves dealers hopeful that many will soon upgrade.
The numbers also showed an uptick, particularly at the end of 2010, in the sale of new trucks and SUVs, Allen said.
He said there is typically a correlation in truck sales and the health of small businesses, normally big buyers of such vehicles.
"My hope is that this suggests that small business is beginning to revive and find the cash flow to buy new vehicles," Allen said.
There are some other facts that jump out of the VADA's latest numbers.
Most noticeably, Richmonders' appetite for import vehicles has been down only slightly since 2004. But the number of new domestic vehicle registrations has fallen off a cliff since 2004. More than 21,000 new domestic cars and trucks were registered in Richmond, Henrico, Chesterfield and Hanover in 2004, compared with about 9,000 in 2010.
Statewide, new-vehicle registrations were up about 11.4 percent from 2009 to 2010, but remain down 34 percent from 2004.
Virginia has seen 75 dealerships go out of business over the past three years, Allen said, with the current number at 489.
Employment at dealers is down 19 percent as employers remain hesitant to hire.
Allen said consolidation of new dealers, which has been a trend over the past few years, will likely slow down.
"The economy has wrung out as many dealers as it's going to wring out," he said.
Michael Schwartz is a BizSense reporter. Please send news tips to [email protected]