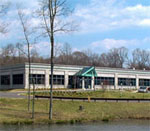 For sale: an active listing for a 32,000-square-foot R&D facility in Chesterfield County for $5.7 million.
For sale through foreclosure auction this week: the same property, at least according to foreclosure notices that were published over the past two weeks, on a defaulted deed for $1.9 million.
The property is the former headquarters of Commonwealth Biotechnologies Inc., a local company that after years in the red is winding itself down and shedding its assets. Those assets include the 4.5-acre property in question at 601 Biotech Drive, but no one knows for sure whether the foreclosure is still on.
Wink Ewing, a broker with CB Richard Ellis who has been working the CBI listing, would only say that the property is still very much an active listing and under a letter of intent.
"The property is doing just fine," said Ewing. "The property and the tenant are great."
That tenant is AIBiotech, an entity that was split off from CBI and bought by Glen Allen-based Bostwick Laboratories in 2009. It still leases the space from CBI.
AIBiotech President Robert Harris said he wasn't able to comment on the status of the property and referred inquiries to Richard Freer, the CEO of CBI.
Messages left for Freer at CBI have not been returned over the past several months.
But according to legal notices and a representative at the office of Samuel I. White PLC, the firm handling the foreclosure, the foreclosure auction is still on for Thursday.
Ewing said the property has been on the market for about two years and was originally listed at $6.43 million. He said he couldn't disclose to price of the LOI but did say the potential buyer is from out of the area. See the full listing here. http://looplink.natl.cbre.com/xNet/Looplink/Profile/Profile.aspx?stid=cbre7&LID=16758904&LL=true&UOMListing=&UOMMoneyCurrency=&RentPer=PY&SRID=1380298940
The tight commercial real estate credit markets have made the property a tough sell, Ewing said.
"It's still is very hard to finance for this type of property," Ewing said.
The publicly traded biotech firm, whose shares are now a penny stock over the counter, announced late last year its plan to sell the Biotech Drive property to a purchaser to be determined for no less than $4.3 million. CBI said at the time the proceeds of the sales would be used in connection with its future business plan. That plan includes potentially selling the corporate entity as a public shell through a reverse merger.
Read a BizSense report on CBI's winding-down process here. https://richmondbizsense.com/2010/11/12/biotech-firm-becomes-a-shell-of-its-former-self-on-purpose/
It is worth noting that CBI is currently being sued in U.S. District Court by Fornova Pharmaworld US Inc., a Virgin Islands-based entity with operations in China. Fornova alleges in the suit that CBI defaulted on a promissory note for $500,000.
Michael Schwartz is a BizSense reporter. Please send news tips to [email protected].