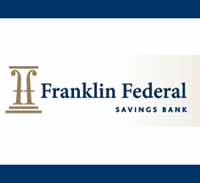 The transformation of Franklin Federal Savings Bank is underway.
The bank disclosed this month that it finally received approval from its federal regulator to convert from a mutual savings bank to a stock-owned company. That opened the door for its $120 million stock offering, which is now open and expected to be completed by March 28.
Sandler O'Neill & Partners and Davenport & Company are handling the offering.
If all goes as planned, the $980 million bank will emerge as part of a NASDAQ-traded public company, Franklin Financial Corp., flush with cash to play with for potential acquisitions, branch expansion and increased lending.
BizSense first reported on the bank's plan in late October. (You can read that story here.)
Franklin Federal is offering 12.07 million shares at $10 per share for expected gross proceeds of $120.75 million, although it's not quite the usual stock offering.
Because of its previous status as a mutual, Franklin Federal's depositors are technically its owners. And they get first crack at the new public shares.
Those customers that had at least $50 in deposits at the bank as of Sept. 30, 2009, get first priority, followed by employees and other customers. If shares are left after those parties are done with it, there could be some offered to the community at large.
Franklin Federal directors and executives are expected to buy a combined 418,000 shares in the offering for $4.18 million, or 4.7 percent of the total number of shares offered. That includes 100,000 shares or $1 million worth to be snatched up by CEO Richard Wheeler.
The bank will also contribute 4 percent of the gross proceeds from the offering to its charitable foundation, the Franklin Federal Foundation.
The company said it has applied for approval to list its common stock on the Nasdaq Global Market under the symbol FRNK.
As is typical, the bank is prohibited from discussing the offering due to SEC regulations.
The bank's updated prospectus also disclosed its latest financials. It lost $1 million during its fiscal 2010, which ended Sept. 30. That compares with a $7 million loss in 2009 and a $21 million loss in 2008.
For the three months that ended Dec. 31, the bank made a profit of $2.03 million.
As of Dec. 31, the bank had assets of $980.66 million; total deposits of $653.12 million; a loan portfolio worth $476.6 million; and $40.05 million in non-performing assets.
Among the risk factors listed in the latest prospectus, the bank discussed its heavy concentrations in commercial lending. That includes about $40 million, or 8.2 percent its loan portfolio, in construction loans; $70.5 million, or 14.3 percent, in land and land development loans; and $251.6 million, or 50.9 percent, in nonresidential and multi-family real estate loans.
Another risk factor listed in the offering relates to the bank's need to modernize its products in order to attract younger customers.
Franklin Federal said two-thirds of its depositors are over the age of 60, and that might impede its expansion strategy.
Part of the reason for that older customer base comes with the territory for mutuals. Traditional mutuals are something of a throwback. They don't offer checking accounts. They don't have ATMs. They still use passbooks on deposit accounts.
The bank has said that will likely change with its new identity.
Franklin Federal was founded in 1933 as Federal Savings and Loan of Sandston and eventually took its current name after it moved to Franklin Street downtown. It has about 100 employees at eight branches including its corporate headquarters in Innsbrook.
As of June 30, Franklin Federal controlled 2.23 percent of the FDIC-insured deposits in the Richmond market.
Michael Schwartz covers banking for BizSense. Please send news tips to [email protected]