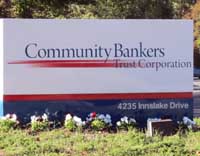 The former CEO of the now non-existent Bank of Richmond is back at the helm of a local community bank.
Rex Smith was named president and CEO of Essex Bank and its Glen Allen-based parent company, Community Bankers Trust Corp.
Previously serving as Essex's chief banking officer, Smith filled in as president and CEO on an interim basis beginning in September when George Longest abruptly stepped down to a lower position within the struggling bank amid cuts to 10 percent of the company's workforce.
Read more about Longest's departure here.
Smith takes over leadership of a $1 billion bank that is trying to battle its way back from massive losses tied to some of the highest levels of non-performing assets of any bank in the Richmond region. For example, the bank lost more than $8 million lending to the Federal Club, an upscale golf club in Hanover County that was bought out of bankruptcy.
CBTC lost $20 million in 2010, according to its latest SEC filings, although that was a significant improvement over the almost $30 million it lost in 2009.
It had $1.1 billion in total assets at year's end, a loan portfolio of $614 million and $961 million in total deposits.
The company reported more than $42 million in non-performing assets at the end of 2010, double the amount it had on the books a year earlier.
It has also revealed that it expects to enter into a written agreement with state and federal regulators during the first quarter. Such agreements are targeted at improving struggling banks' financial condition, including setting a plan to deal with troubled loans.
Read more about the company's potential written agreement here.
CBTC was created in 2005 as a bank acquisition company. It began its growth in 2008 by acquiring banks and bank holding companies in Virginia and the assets of a failed bank in Georgia. It acquired another failed bank in Maryland in early 2009. Those banks were brought under the Essex Bank umbrella, which now consists of 25 branches, including 14 in Virginia, seven in Maryland and four in Georgia.
Smith joined Essex in April 2009, not quite two years after Bank of Richmond was acquired by Virginia Beach-based Gateway Financial Holdings, a deal which converted BofR branches into Gateway Bank branches. Smith then became president of Gateway's Central Virginia operations.
CBTC said Smith was chosen after an executive search was conducted by the company's board of directors.
Smith's appointment as the new head of the bank must first receive regulatory approval.
CBTC also further beefed up its executive ranks with the addition of retired Federal Reserve Bank of Richmond examiner W. Thomas Townsend as its new chief credit officer. Townsend also previously worked as a credit officer at MainStreet Financial Corp., a multi-bank holding company Martinsville, Va.