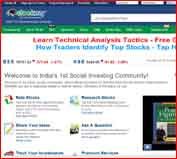 Investment advisers love to talk a lot about emerging markets.
Dorsey Wright & Associates is putting its money where its mouth is.
The local investment advisory firm has acquired a stake in an online startup in India.
DWA is now the proud owner of 19 percent of StockEzy, a social networking site for investors in Mumbai.
Tom Dorsey, president and founding member of DWA, wouldn't disclose any financial details of the transactions, as both parties are privately owned.
Dorsey said the deal came about after a DWA analyst traveled to India and stumbled upon the site.
"Like most things of interest, it happened by accident," said Dorsey, who helped found DWA in Richmond in 1987 after working as a stockbroker at Merrill Lynch downtown.
Dorsey said DWA purchased 19 percent of StockEzy in part because of the red tape and rules governing business in India.
"In India, if you own 20 percent it changes the dynamics if you are a foreign company," Dorsey said.
For example, had DWA bought 20 percent of the site, DWA would have to have one of its employees on StockEzy's board of directors, which is not exactly a cinch logistically.
"The challenges are the bureaucracy," Dorsey said. "There are 862 political parties in India. We have two."
There are several reasons Dorsey decided to make the investment.
First is the usual reason to get in early on a tech startup: the hope of an eventual acquisition by a larger player and subsequent payout.
"Ultimately that would be a good thing to happen," Dorsey said.
But in the meantime, Dorsey sees potential revenue streams. StockEzy is free for users and is getting 500,000 page views a month. Dorsey believes such an audience can eventually attract advertising, the revenue from which DWA will split with the site.
Those users could also be potential buyers of DWA's investment research products, Dorsey said. That revenue will also be split between the two parties.
"You've got over a billion people in India, which is one of the reasons it attracted me."
If and when they build in India to a larger scale, the plan is to bring StockEzy to Europe and the United States, Dorsey said.
He said they have no intention for the site to become a Schwab or Ameritrade-type of brokerage site.
"The idea is to give a voice to investors," Dorsey said. "It's designed for individuals to join hands and seek help from each other."
DWA, headquartered in Richmond on Forest Hill Avenue, has 14 local employees. It also has a money management operation in California that manages about $1.3 billion in assets.

Michael Schwartz is a BizSense reporter. Please send news tips to [email protected]