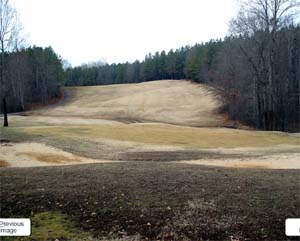 All it takes to own your own golf course is about half a million dollars.
A local businessman forked over $500,000 at auction Wednesday to buy Royal Virginia Golf Club, a Goochland County golf course that had fallen into foreclosure. (BizSense was unable to discover who, exactly, the buyer is, but we'll have another story as soon as we find out.)
"It has a new owner, and the plans are to open it back up as a golf course," said Bill Bryant, an auctioneer for the Counts Realty & Auction Group, which handled Wednesday's auction.
When reached by phone, Bryant would only say that Royal Virginia's buyer is a local businessman and that more information might be available once the sale officially closes in 30 days.
Built in the 1990s, the 18-hole, 7,125-yard public course sits on 259 acres in Hadensville and closed for business to the public about 45 days ago.
Brian McCormick, an attorney with the trustee firm of Dunn, McCormack and MacPherson in Northern Virginia, said the buyer got a good deal. The course sold three years ago for $2.7 million.
According to the deed of trust, the lender on Royal Virginia was Provident Bank, now M&T Bank. The original loan amount was $1.7 million.
The buyer put down a cash deposit and also has to pay a 5 percent buyer fee.
Bryant said the course generated plenty of interest – dozens of people showed up for the auction, he said.
One attendee who was glad to see the course find a new owner is Marshall Harris, a retiree and former employee of the course who had been trying to put together a group of investors to make a bid on Royal Virginia.
Harris, an avid golfer who had various duties at the course for more than two years, chalked its troubles up in part to mismanagement and also to the downturn in the economy. He said the course only had about three dozen members.
"It has good potential if it has the right people running it," said Harris. "It was a good location back in the '90s, and it should be now if the economy picks up a little bit."
Harris said Royal Virginia has changed hands several times over the years. Previous owners included a group of Japanese investors, the course's former general manager and golf professional, and investors from Northern Virginia.
Whatever the new owner decides to do, Harris said they got a great deal.
"I think they can make a go of it now as a golf course or the land itself will eventually be worth a whole lot more than that," Harris said.
Michael Schwartz is a BizSense reporter. Please send news tips to [email protected].