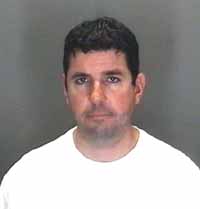 Three banks that loaned money to Justin French are seeking to force the formerly high-flying developer into bankruptcy.
Paragon Commercial Bank, Franklin Federal Savings Bank and Citizens Bank & Trust have petitioned the U.S. Bankruptcy Court in Richmond to place French into an involuntary Chapter 7 bankruptcy.
It is unclear what assets French still has. But those assets would be divvied out to creditors if the bankruptcy liquidation goes forward.
Together the three blanks say they are owed $2.47 million connected to soured real estate loans. Other local banks lent French millions more to rehabilitate properties across Richmond. Most have foreclosed on property and sold it auction to recover money loaned to French.
In January, French pleaded guilty to a massive real estate scheme in which he inflated the cost of historical rehabilitation and then sold tax credits on those projects. French will be sentenced in May and faces up to 30 years in prison.
As for the bankruptcy, Roy Terry, an attorney for DuretteCrump and a Chapter 7 panel trustee for the court, said the next step would be for a judge to decide whether the bankruptcy will go forward. In that case, the judge would issue a motion for relief, entitling additional creditors to make claims against French and officially begin the bankruptcy.
"All the court has to do is make an evidentiary finding that French is not meeting his obligations, and an order for relief will be entered," Terry said. "Then you are off and running."
Terry said French could try to fend off the attempt.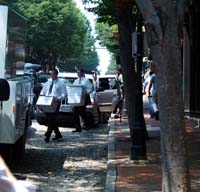 "Mr. French could raise a technical defense such as 'I dispute that debt' and try to knock out one of the three creditors," Terry said.
A minimum of three petitioners are required to initiate an involuntary bankruptcy proceeding, Terry said.
Pursuing an involuntary bankruptcy is often a last resort for creditors seeking repayment. Terry said creditors will initiate such an action if they are concerned that other creditors are getting an advantage.
"They want the bankruptcy transparency, where everything comes out in the open," Terry said.
Several other individuals and businesses have filed suit against French in civil courts seeking payment, and they might eventually join the creditors in the bankruptcy case.
French's primary residence at 330 Oak Lane in the posh section of Richmond's West End is also in foreclosure. Terry said If the bankruptcy is approved the foreclosure would be stopped. Then the foreclosing entity would have to seek permission through the bankruptcy court to let them proceed on the basis that there is no equity in the property to pay creditors with.
Terry said it is also possible for the court to look back at the way French may have sold property over the past couple of years. If he sold property for less than "reasonable equivocal value," those assets could be claimed by creditors.
"They could bring it back in the pot to be shared pro rata by everyone." Terry said.
A hearing on whether the bankruptcy will be approved has not been scheduled. French has been issued a summons to respond. If he doesn't by April 12, the motion will be granted.
Thomas Ebel, an attorney with Sands Anderson representing Paragon Commercial Bank, confirmed that the three banks are petitioning to begin Chapter 7 proceedings against French.
"It's an involuntary proceeding to seek fair and equitable distribution of his remaining assets for the benefit of all his creditors," Ebel said.
French went through a Chapter 7 bankruptcy in 1996, which he filed voluntarily after he had served two years in federal prison for charges stemming from trafficking cocaine and illegal firearms.
Previously on BizSense:

Restoring faith after French

French pleads guilty to fraud
Creditors win judgments against French, but will there be any money?