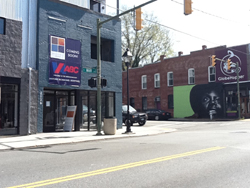 Bottoms up.
The Virginia ABC is opening a retail store on the corner of Main and 21st streets this spring.
From a statement issued by the ABC about the new location:
"ABC has been pursuing a store location in Shockoe Bottom for some time since the area is home to many of Richmond's recent commercial and residential construction projects. ABC looked at a few locations in the area and determined that the space at East Main and 21st streets offers Shockoe Bottom residents and businesses a safe, convenient location to purchase distilled spirits."
The store is expected to open in late May or early June.
The retail space was recently developed by Sensei Development and is located on the ground floor of its Engine Company Lofts apartment building. That building is part of a block-wide development known as Shockoe Valley Heights, which BizSense has covered here and here.