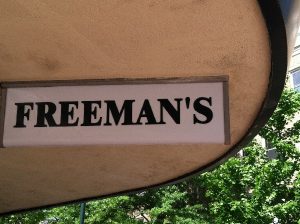 Freeman's Men's Shop filed for Chapter 7 bankruptcy Monday.
The men's clothing shop had locations at White Oak Village and on Midlothian Turnpike.
Freeman's previously had a location downtown on Grace Street before moving that location to White Oak in 2009. It also at one time had a shop in Petersburg. Freeman's is owned and run by W. Roger Freeman.
According to the bankruptcy filing, Freeman Enterprises Inc. had less than $50,000 in assets and estimated debt of between $100,000 and $500,000. Freeman's listed more than 70 creditors in the filing.
One of those creditors, Don Mart Clothes Inc. of Philipsburg, Pa., sued Freeman's in March in Richmond Circuit Court, seeking a $50,000 judgment.
Its other creditors include City of Richmond Utilities, a New Jersey-based company called Corporate TurnAround, Laburnum Investment LLC, apparel vendors from across the country and a local firm called Weinstein Management Co.
Stay tuned to BizSense for more on this story.