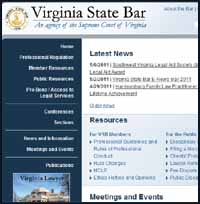 Two local lawyers have been disbarred in recent weeks: One went AWOL, and the other helped himself to funds that weren't his.
Glen Allen attorney Martin Ray Johnson had his license to practice law in Virginia revoked by the Virginia State Bar in mid-April after he didn't show up for a client's court date in October. He was nowhere to be found until an investigator discovered a blog post in March.
In December, the court submitted the matter to the state bar, which used its investigator to track down Johnson.
The revocation order states: "A March 19, 2011 computer search by the Bar's investigator revealed a blog in the name of Martin R. Johnson, attorney at law, just another WordPress.com weblog, which states, 'I am no longer practicing law in Virginia.'"
Eventually, another attorney, Joseph Grove, informed the bar that Johnson had abandoned his practice, leaving the state and the profession.
The bar documents show Johnson signed the revocation order from Florida.
Meanwhile, in Colonial Heights, Gregory Allen Thomas had his law license revoked in April after an incident involving his uncle's law firm and his uncle's personal bank account.
Thomas's uncle, Clarence Flippo Hicks, is an attorney in Gloucester. According to the order against Thomas, Hicks had to stop practicing law in 2007. Thomas agreed to help him complete his existing cases.
Thomas was to shut down the practice after those cases were taken care of. Thomas became a signatory for the firm, giving him access to its trust account and bank account but not his uncle's personal bank account.
But in 2008, according to the bar documents, Thomas began transferring money from his uncle's personal bank account into the firm's account and then used that money to pay himself.
In all, he moved approximately $30,000 from the personal account to the firm's account and caused overdrafts on both.
Thomas eventually owned up to it, although he said some of the money was used to pay office expenses and a receptionist.
A revocation of a lawyer's license is not permanent. According to the Virginia State Bar, disbarred lawyers can petition the state Supreme Court after five years to be reinstated.
Michael Schwartz is a BizSense reporter and covers the legal industry. Please send news tips to [email protected]