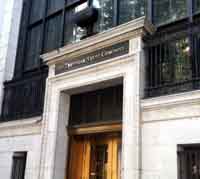 A Northern Virginia bank with deep ties to Warren Buffett's former right-hand man has its sights set on Richmond.
Middleburg Bank filed an application last week with the Virginia Bureau of Financial Institutions to open its first local branch in downtown Richmond.
The bank, a subsidiary of Middleburg Financial Corp., wants to set up shop at 821 E. Main St., the former Tredegar Trust building. The company already owns that building.
"Middleburg Bank has wanted to come to Richmond for a number of years," said Andy McLean, the regional executive in charge of Richmond and Williamsburg. "It felt like the time was right."
Middleburg's isn't the only Virginia bank licking its chops to get into Richmond.
Christiansburg-based StellarOne said recently that it is looking to establish branches in Richmond, likely through acquisition.
Middleburg Financial, which has about $1 billion in assets, is no stranger to Richmond.
The company's Middleburg Trust subsidiary is headquartered downtown in the old Tredegar Trust building. And its mortgage subsidiary Southern Trust Mortgage has been doing business in the Richmond market.
"Being able to compliment our existing Richmond trust, investments, insurance and mortgage footings with the commercial bank is just another feather in our cap," McLean said.
As its name implies, Middleburg Bank is based in Middleburg, Va., a Northern Virginia town just west of Washington. The bank was founded in 1924. Its holding company was created in 1993.
The bank has nine branches, mostly in the northern part of the state. The closest it has come to Richmond is its branch in Williamsburg, from where McLean has been plotting the bank's entrance here.
"It's just kind of a natural move due to our market presence in Williamsburg," McLean said.
David Sokol, a former top executive at Warren Buffett's Berkshire Hathaway, owns more than 20 percent of Middleburg Financial. His increasing stake in the small bank has helped get it some national press.
Sokol has a family connection to Middleburg CEO Gary Shook. Sokol's daughter married Shook's brother-in-law.
There's also a notable Richmonder on the Middleburg board of directors. Gary LeClair, head of LeClairRyan, joined Middleburg's board in 2001. He owns about 4,000 shares of Middleburg stock.
If and when Middleburg receives approval from regulators, its Richmond expansion plans won't go beyond the downtown branch for now.
But McLean said the state of some of its soon-to-be local competitors is reason enough for Middleburg to keep its eyes open for further expansion.
"I foresee this as a tremendous opportunity because a lot of Richmond community banks are under some form of regulatory agreement, which we are not. We are very well capitalized," McLean said.  "We have the ability to come into this market."
McLean said the company also hasn't ruled out the potential to expand in Richmond via acquisition.
"That could be a feasible way to get a footing," McLean said. "I don't think we actively have that approach right now, though I would never say never."
Middleburg Financial has close to 20 employees in Richmond working in its trust and mortgage divisions. McLean said he would look to add three or four employees once the branch opens.
He said the bank expects to receive approval for its branch application in July.
Michael Schwartz is a BizSense reporter. Please send news tips to [email protected]