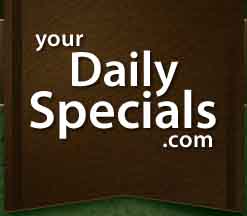 Richmond's deal sites just keep multiplying.
Two weeks ago, Richmonder Klint Kranski launched Yourdailyspecials.com, listing lunch and dinner specials.
The site also lets restaurants list their location and whether they take reservations.
Restaurateurs must shell out $45 a month or $480 a year to be featured on the site. Kranski did not share how much traffic the site is getting, but he said he plans to reinvest the early revenue in advertising to draw a bigger audience.
Kranski is not alone on the deals bandwagon.
Nathan Burns recently launched RVA Specials, a similar concept that lists happy hours offered in the downtown Richmond area.
NBC12 this spring launched MyRiverCityDeals.com, which offers a few deals each week for 50 to 75 percent off goods or services.
And despite the frenzy surrounding sites such as Groupon and Living Social, Kranski said his site wouldn't offer one-day deals.
"It's not a Groupon [or] coupon site," he said. "It's specials they are already promoting. It's just a way of getting the word out."
Diners can go to the site, choose from a menu of restaurants, click on the one they like and view their lunch or dinner specials for that day.
Kranski has five restaurants signed up and a couple of others he's working to get on board. He's starting off with restaurants along Midlothian Turnpike and Hull Street, but he said eventually the site will feature a variety of businesses.
Kranski, who also runs a Midlothian weight loss practice, got the idea for the site after noticing that business at many local restaurants was dragging.
"I'm pretty busy and I eat out a lot at restaurants," Kranski said. "I found that many of them with great food and inexpensive prices were empty during lunchtime."
He added that he was also tired of arguing with friends and family about where to eat.
"It takes a half-hour trying to decide where you want to eat," he said.
For the past six months, Kranski has been working on the site. It went live the end of last month.
Kranski said that the site will serve as an additional resource for restaurants promoting daily specials.
"The chalkboard specials you see don't create any new business," he said. "There's a need to get it out there to draw people in."
Kranski said he's found that many restaurants are looking for an alternative to sites like Groupon and Living Social.
"They don't like them," he said. "Their price structures are already cut down to the bone, and they can't afford it."
Belle Vie, a European-style bistro in Midlothian, signed on for a membership last week.
Manger Ronnie Croy said they tried other daily deals site in the past but were willing to test out the new site.
"It's a good avenue to go through," Croy said. "We do a lot of specials and thought, 'Why not use this for the extra help?'"
Crazy Greek and Tripps Restaurant in Midlothian have also signed on.
Kranski has a team of about six people working to promote the site. He has one in Richmond and a few others in major cities to recruit restaurants to expand his site to other areas.
Once he nails down a few more Midlothian restaurants, Kranski said he plans to expand to Carytown, Broad Street, Shockoe Bottom and other areas.