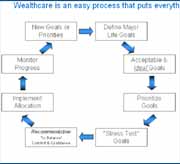 A local wealth management firm is going after one of the world's financial giants.
Wealthcare Capital Management, which has an office in downtown Richmond, has filed a patent infringement lawsuit in federal court in New York against UBS Financial Services.
UBS, the suit claims, has a wealth management program that infringes on two patents owned by Wealthcare and its parent company, Financeware.
The patents, one issued in late July and one in early August, are titled "Method and System for Financial Advising." They involve a process of gathering information from the firm's clients, including their background and financial goals, plugging that information into a software program and then analyzing the results to recommend a wealth management plan.
Wealthcare founder David Loeper said the alleged infringement has been going on for at least a year.
"We have very solid evidence that UBS is infringing on that patent," Loeper said.
UBS Spokesperson Karina Byrn declined to comment as UBS has not yet reviewed the lawsuit.
Although it has been filed with the court, Loeper said Wealthcare has not legally served the suit to UBS. That is by design.
"UBS may not be aware that they are infringing on the patent," Loeper said. "Our hope is that we can come to amicable terms and settle this without going to trial."
As stated in the patents, the intellectual property in question is "a method of providing financial advice to a client that provides sufficient confidence that their goals will be achieved or exceeded but that avoids excessive sacrifice to the client's current or future lifestyle and avoids investment risk that is not needed to provide sufficient confidence of the goals a client personally values."
Wealthcare alleges in the suit that UBS's computerized financial advising software and MoneyGuidePro system has been and is infringing on the claims of the two patents.
"UBS's financial planning advice and reports compete directly with Wealthcare's financial planning software and systems, causing damages and irreparable harm to Wealthcare," the suit claims.
Wealthcare has asked the court for an injunction to prevent UBS from further infringing on the patents and is seeking damages of an unspecified amount.
Jumping into the legal fray is not familiar territory for Wealthcare.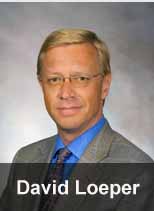 "This is the first lawsuit our company has ever filed," Loeper said. "But we own the intellectual property rights to this, and we're not being compensated for that."
Headquartered in Main Street Center, Wealthcare has 38 employees and several offices across the country, including in Atlanta, Pittsburgh and Chicago.
It's picking a fight with a much larger player.
UBS is a colossal firm that has 65,000 workers worldwide and trades on the New York Stock Exchange and the Swiss Exchange.
Nevertheless, Loeper said his company is up for the challenge.
"We are in very strong financial shape as a company and are fully prepared to defend our rights," he said.
New York intellectual property law firm Kenyon & Kenyon is representing Wealthcare in the case.
Michael Schwartz is a BizSense reporter and covers the financial services industry. Please send news tips to [email protected]