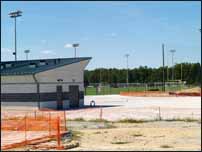 An ambitious sports complex in Chesterfield County continues to trudge along, despite being months behind schedule and battling behind-the-scenes turmoil.
SportsQuest is having trouble paying its bills and keeping its employees, and the business will not be running an arena football team for the upcoming season as advertised.
Over the past year, at least nine former directors have left SportsQuest, depleting the development project of organizational expertise and future athletes/customers.
Money appears to be in short supply. Former employees and contractors say that they have been owed money for months. And while they worked for SportsQuest, they were not always paid on time. They said that when they asked SportsQuest about their money, they were frequently told that an investor is just around the corner and that they would be paid soon.
One landlord waited seven months to be paid a $2,000 monthly rent for a small sales office near the SportsQuest campus, and a construction contractor working on the fields said he has not been paid for work he did months ago.
A handful of former program directors also said that they were never given the stock options that were promised when they were hired. And private leagues and teams have left SportsQuest or not joined as earlier publicized.
SportsQuest founder and president Steve Burton said that, as a startup business, it hasn't always been possible to pay everyone right away, but that all vendors and employees are eventually paid.
So far the project consists of 12 artificial turf fields and a bath house on what's called the East Campus. The plan called for 17 fields, but construction has stopped for now. SportsQuest leased its fields to several tournaments this summer, including a girl's lacrosse tournament and a field hockey tournament. Burton also said he's working to get SportsQuest Academy up and running this fall as a boarding school for student athletes. He said he has around 25 students who will enroll.
In addition, he said construction is getting ready to start on the West Campus, which is to include an indoor facility with a pool and basketball courts. He said that's the most pressing need for SportsQuest's members and that he's lining up financing. (You can read about the plans for the West Campus in a newspaper report here.)
Dudley Duncan, a board member of the SportsQuest Foundation who invested $200,000 in the project, said that there are five more fields to be built on the East Campus and that construction will resume once a financing package is closed to start on the West Campus.
"We're really at a critical point, where financing for the West Campus is really critical to us moving forward," Duncan said.
Although Burton rallies to keep the project moving toward the finish line, the cash-flow troubles have been painful for some former employees.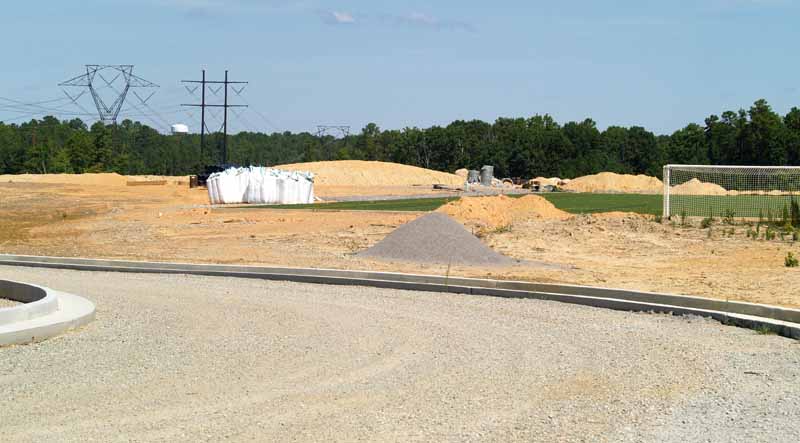 Sue Murphy joined SportsQuest in April 2010 as the executive director of lacrosse. At that time, she folded her existing business – Premier Lacrosse, LLC – into SportsQuest and established fall and winter indoor lacrosse leagues. She also helped bring in two of the tournaments that leased fields from SportsQuest this summer along with multiple travel teams.
Murphy left June 8, and by that time her title had been changed from director of lacrosse to director of professional sports to VP of operations and finally president of events.
She said she was not paid according to her contract, which she said would give her a membership interest in SportsQuest for folding Premier Lacrosse into SportsQuest and bring in customers.
And she said she was not paid the salary she agreed to. "When I departed, there were two months that I was not paid according to my contract," said Murphy, who now runs New World Sports.
Burton denies she is owed anything and said SportsQuest paid $25,000 in refunds for sports programs to help her get started on her new business venture.
Another SportsQuest employee, Charlie Hildbold, was laid off three weeks ago from his position as the manager of the Richmond Revolution. He had moved to Virginia to help launch the arena football team, and in its first season, it drew capacity crowds at the Arthur Ashe Center. Last season, the team drew only a few hundred fans per game when they were moved outdoors on the SportsQuest campus. The team was losing hundreds of thousands of dollars, Hildbold said.
Hildbold said his direct deposit paycheck almost never went through on time.
"I was paid every pay period, but for the last three or four months, it was late pretty much every time. The worst was 11 days late," said Hildbold, who is in Richmond looking for another job in sports.
"That was the worst, because it was near the first of the month and so I ended up bouncing a rent check. That's just embarrassing."
Without Hildbold, there will not be football.
Burton said that the team will return once there is an indoor facility.
"We are going to delay one year," Burton said. "The outdoor season just presented too many challenges. It rained every game but one, and people didn't enjoy that experience."
Brad Gamlin brought his flag football league to SportsQuest around September 2010 and left in January. Gamlin said that his pay was not as much as he had discussed with SportsQuest.
"I look at it as one of the biggest mistakes of my life," Gamlin said.
"I was put on a salary with an aggressive bonus system. Whenever I asked about it, I was told that we'll talk about it next week. I still don't know what my bonus system was supposed to be."
Gamlin is now running his league independently from SportsQuest.
Burton declined to discuss individual employees' complaints, but he said that part of the turnover is from hiring candidates that didn't quite see that SportsQuest is more of a facility for Olympic training.
As for the trouble with payments, Burton said that sometimes revenue from event and registrations comes in after an event, and that vendors also have to wait, just like SportsQuest has to wait for its cut.
"We remain committed and have made complete payments," Burton said, "There may have been times where payment terms went beyond [what's normal], but we always make good on our outstanding bills, and we will."
Burton said that with a project as big and complicated as what he's attempting, the vendors are partners in the vision. "This has been a huge undertaking, and of course there are bumps through the process, but this is a great big win for Chesterfield.
"Is it stressful getting there? Yes, but we'll get there."
The grand vision has meant small details often go unattended. For two years, Phil Evans worked at SportsQuest and helped establish professional football. When reached by phone, he said that the business might still work but that perhaps SportsQuest bit off more than it could chew.
"Unfortunately, SportsQuest consistently underestimates how much its going to cost, so cash flow is a persistent problem," said Evans, who left SportsQuest in February.
Evans said he was not given stock options that were part of his compensation. He said a stock option plan was never formerly adopted. Burton denies that claim.
"It's another one of those projects that had good intentions, but there just wasn't the money or resources to get it done," said Evans.
Aaron Kremer is the BizSense editor. Please send news tips to [email protected]