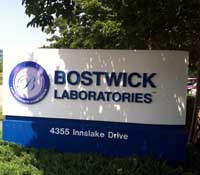 Despite rumors this summer to the contrary, a local medical lab company is keeping its headquarters in Richmond.
Bostwick Laboratories, which runs medical labs across the country, signed an 18-month renewal on the lease for its 65,000-square-foot Innsbrook headquarters.
The lease will run through June 30, 2013, according to Richard Bostwick, the company's general counsel.
Jane duFrane worked the deal for Highwood Properties, which owns the building and had listed it for lease this year after Bostwick hadn't made its plans clear. The lease was set to expire at year's end.
The company, whose labs' tasks include examining specimens for cancer, recently vacated its other Innsbrook office on Lake Brook Drive. That building was taken over by Snagajob.
Richard Bostwick said employees from the Lake Brook location have been consolidated into the headquarters building.
The company owns several labs across the country. Its Nashville and Phoenix labs are for sale, according to commercial real estate listings.
BizSense also recently reported that the company closed on a deal to give it a capital injection.
Healthcare Finance Group agreed to lend Bostwick $43 million: $20 million in a revolving line of credit and $23 million in secured loans.