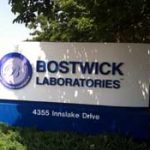 Bostwick Laboratories, an Innsbrook company that runs medical labs across the country, has secured a large round of financing from a New York-based lender.
Healthcare Finance Group agreed to lend Bostwick a total of $43 million: $20 million in a revolving line of credit and $23 million in secured loans.
The money will allow Bostwick to rework some of its existing financing, including a previous credit line, loans and an interest rate swap.
A message left for Richard Bostwick, the company's general counsel, was not returned by press time.
In a prepared statement announcing the deal, Healthcare Finance Group Senior Vice President Steven Goldsmith said, "This is a growth-oriented company that is well positioned for a much anticipated market consolidation and we are excited about our participation in their expansion."
Bostwick's plans have been up in the air, however, since it was revealed that it would be vacating one of its local offices. Its other local office, its 65,000-square-foot headquarters building in Innsbrook, is listed for lease as well, and Bostwick executives have been tight-lipped about the future. Sources have told BizSense that Bostwick was considering moving the company to Florida.
Bostwick has labs and offices across the country and one in London, although several are up for sale.
The company's labs in Tempe, Ariz., Uniondale, N.Y., and Nashville are all on the market, according to commercial real estate listings.