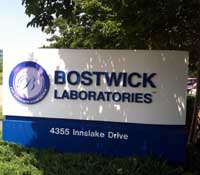 Correction and ommission: This story originally stated that among the employee benefits that Bostwick considered elminating was the 401(k) plan. The company has since said that was not part of the proposed cuts. In addition to the locations listed in the original story, Bostwick also has a lab in El Paso, Texas. Bostwick also has since told BizSense that the employee numbers reported in the story are a bit high, though it would not given a more accurate figure.
A large medical lab's future in Innsbrook – and possibly its future as a Richmond-based firm – appears uncertain as its leases are set to expire and the company is mum on its plans.
Bostwick Laboratories, which tests specimens for cancer diagnosis and at one time was adding hundreds of jobs a year, is scheduled to vacate one of its two Richmond locations in October.
And last week, its 65,000-square-foot corporate headquarters in Innsbrook went back on the market. Its lease is up at the end of the year. The company hasn't told its landlord whether it intends to stay in the space, said Jane duFrane, director of leasing at Highwoods Properties.
The move could be part of negotiating a new lease.
However, BizSense spoke to several sources, including Bostwick employees, who said the company might be planning to move its corporate operations to its Florida location.
Employees haven't been told much by the company brass.
An employee said those who work in Bostwick's Lake Brook Drive location, which will be taken over by Snagajob in October, haven't been told where they will move.
The employee also told BizSense that the company at one point last year attempted to eliminate certain employee benefits, not including medical insurance. Employees didn't take kindly to the idea, and it was shelved.
After several calls to Bostwick executives this week, BizSense was told that employees received an email from Richard Bostwick, the company's general counsel and brother of the CEO, instructing employees not to speak to the media.
The email told employees to refer any member of the media to Brent Sower, Bostwick's head of marketing. Sower didn't return a message Thursday.
In a brief email to BizSense, Richard Bostwick said, "We are a private company and at this time we have no comment."
Bostwick has offices or labs in Uniondale, N.Y., Silver Spring, Md., Orlando and London.
It closed its Phoenix lab last fall. That property is still for sale.
According to the company's website, it is hiring for a more than a dozen positions, although none of those jobs are in Richmond.
"Bostwick has not indicated that they are going to stay," said duFrane, from Highwoods. "So I wanted to make sure I got it out on the market as soon as possible."
Highwoods listed the property last week just in case Bostwick decides not to stay.
DuFrane, who also worked the deal to get Snagajob in to Bostwick's Lake Brook office, said Bostwick has about 40 employees in that space.
There are approximately 275 employees at its corporate headquarters on Innslake Drive, DuFrane said.
"I'm hoping they stay," DuFrane said. "But if they don't, I need to get the building moving."
CEO David Bostwick and his brother and COO Joe Bostwick did not return several calls seeking comment.
Bostwick Laboratories was founded in 1999 and grew quickly thereafter.
In 2008, the company filed the initial documents for a potential IPO that never materialized.
The prospectus filed at the time with the SEC gives a glimpse of Bostwick circa 2008.
The company, according to the March 2008 prospectus, had 750 employees, up from 142 in just two years. Its revenue reached $102 million in 2007, jumping 76 percent from 2006 and 92 percent from 2005.
As money rolled in, so did the accolades.
Bostwick was named the fastest-growing company in Richmond for 2004, and David Bostwick received the Ernst & Young Entrepreneur of the Year award in 2008.
Bostwick also owns a Midlothian company called AIBioTech, which it acquired from Commonwealth Biotechnologies in 2009.
That company won a bid to participate in a $21 million contract last August. It said at the time that the first phase of the contract for AIBioTech was worth almost $3 million.
Michael Schwartz is a BizSense reporter. Please send news tips to [email protected]