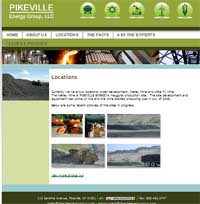 A Richmond law firm has been dragged into a local doctor's three-year battle over a soured investment in Appalachian coalmines.
Ayers & Stolte has been sued for legal malpractice by former clients who themselves were hit last year with a bruising lawsuit.
Those clients — Kentucky-based Pikeville Energy Group, local businessman Gary Richard and a Massachusetts company — hired Ayers & Stolte in August 2008 to advise them about accepting an investment into a coal mining operation from ophthalmologist Akshay Dave.
In the new suit filed, Sept. 9 in Richmond Circuit Court, the plaintiffs argue that Ayers & Stolte should not have recommended a royalty system to pay back the investor. That allegedly bad legal advice eventually led to a "significant potential liability" from the Dave suit.
Dave, who has a practice off Bremo Road, poured $800,000 into the Pikeville coal-mining venture in exchange for a 2 percent stake in the company. But he didn't see a dime back, according to a suit he filed in August 2010, two years after he thought he was buying into two promising coalmines.(You can read the orginial RBS story here.)
The Dave loan was to pay 24 percent interest that would come from royalties of $1.50 per ton of coal produced by the operations. In all, Dave was to receive $2 million within three years.
Pikeville, Richard and his other company called Banner Industries, are blaming Ayers & Stolte for not advising them that they didn't have the legal authority to offer such a deal. In particular, Pikeville's suit claims that Ayers & Stolte introduced the concept of a "court recorded royalty."
"Ayers & Stolte knew or should have known that Pikeville had no authority to offer a court recorded royalty," the suit claims.
Charlie Ayers, a partner at Ayers & Stolte, said his seven-attorney firm had yet to be served with the new suit.
According to Dave's suit, Pikeville had ceased all coal mining operations by January 2009 – five months after Dave cut the check.
Pikeville's phone number has long since been disconnected. And in June 2009, Richard said under oath that Pikeville was in default and had no ability to make payments on the loan.
"If [Richard] wants to try to blame it on someone else, so be it," Ayers said.
Ayers said his firm sued Richard for unpaid legal fees, won a judgment on the matter and ultimately collected.
David Lacy, an attorney with Christian & Barton, which is representing Pikeville, Richard and Banner Industries, declined to comment on the case.
Andrew Sherrod and David Spiro, attorneys with Hirschler Fleischer, are representing Dave in his case against Pikeville and Richard. That case, according to Spiro, is headed to trial in January. Neither Sherrod nor Spiro would comment on this latest case.
Asked whether this latest suit might have been filed to trigger his firm's malpractice insurance, Ayers said that the insurance company wouldn't roll over easily.
"They don't write checks for frivolous things," he said.
Michael Schwartz is a BizSense reporter. Please send news tips to [email protected]