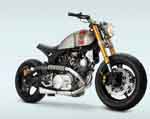 One Richmonder has gone from creating ad campaigns to creating motorcycles.
Last year, John Ryland launched Classified Moto, a business that recycles junkyard pieces and other used parts into custom bikes.
"So many people are into vintage bikes that are too expensive for the average person," said Ryland, 42. "I'm taking something that's been discarded and doing something fun with it."
Ryland drove into bike building full time after being laid off from an 11-year career as an art director for the Martin Agency.
"I became disenchanted with advertising," he said. "When I'm building the bikes, I decide what's right and wrong, so it was kind of a blessing in disguise."
Ryland buys parts and bikes on Craigslist, the Trading Post and eBay and at local junkyards.
Ryland has sold 12 bikes and is working on five others. And business is slowly revving up.
"We've gotten inquires from people from Canada [and] Australia, and the rest have been in the U.S.," he said.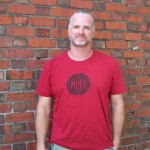 Ryland said he'll invest about $1,200 to get a bike up and running, and most of the bikes he has sold are in the $6,000 to $12,000 range.
Most of the bikes and parts are Yamahas, Hondas, Suzukis and Kawasakis from the 1970s and '80s.
Ryland isn't just using the parts to make bikes. He's also making lamps.
Ryland uses a brake rotor, spring, shock absorber and transmission gear to make a light fixture.
Since debuting on Etsy.com last October, Ryland has sold about 250 lamps for $199 each.
"That was totally a surprise," he said.
And despite being new to the business, Ryland said his startup, which he modeled after an Australia-based custom bike shop, is beginning to be profitable.
"They're very successful, so I think it could work," he said.
Ryland has been riding for four years and got into the hobby while working at the Martin Agency.
"My friend went on a job and was gone for a month and left me his bike," he said. "I fell in love with it."
After getting his license, Ryland decided to take his newfound passion a little further.
"Two years ago, I started messing around with my own bikes," he said. After that, he began tinkering with his friends' bikes and slowly grew the business from there.
Although he's only been in business since October, Classified Moto has drawn a national following. Ryland's shop has been featured on CNN and in a number of magazines.
For now, Ryland runs the business with his wife and one part-time employee out of his West End garage, but he's planning to have a dedicated shop.
"I'm trying to find an investor," he said. "I've been looking at Rocketts Landing. I think it would be a great place for a shop."